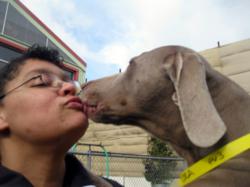 San Francisco, CA (Vocus/PRWEB) February 02, 2011
Pet Camp, a highly ranked cat and dog daycare and lodging in San Francisco, is celebrating Valentine's Day by donating treats to San Francisco Animal Care and Control. From February 1 to February 14, 2011, the pet boarding facility will donate one bully stick treat for every pet kissing picture posted on their Pet Camp Facebook page.
Pet Camp, a San Francisco pet boarding facility, has the city's largest off-leash, outdoor space for dogs. It is also the country's only 'outdoor' adventure area for cats. Pet Camp has received numerous awards including SFGate's 2010 and 2008 Best Pet Boarding Facility award.
"I began taking my dog, Lucky, to Pet Camp a little over 2 years ago," says Pet Camp client Debbie Findling. "I have been very pleased with the professional approach the staff take towards the care of my dog and all the pets that stay there. Lucky is so comfortable with the counselors and always comes home very happy and healthy."
To help donate treats, go to Pet Camp's Facebook page between February 1 and 14, 2011 and post pictures of someone sharing Valentine kisses with their furry friend. For every picture posted, San Francisco Animal Care and Control and Pet Camp will make the day of a lucky shelter dog with a delicious treat.
From the end of January through Valentine's Day, Pet Camp will also be turning part of Camper Cameos into Smooch the Pooch and Kiss the Kat. They'll be posting pictures of Pet Camp counselors and their animal campers displaying their undying affection on their website.
For more information about Smooch the Pooch and Kiss the Kat, or any Pet Camp service, call them at 415.992.7173, visit them online at http://www.petcamp.com/, or visit their main playground located at 525 Phelps Street and Cat Safari located at 3233 Sacramento Street in San Francisco.
About Pet Camp
Since opening their doors 13 years ago, Pet Camp has become the premiere lodging and pet daycare facility in San Francisco. (Pet Camp can be found by searching for "San Francisco dog kennel" on Google, but they prefer the term "pet lodge.") They treat dogs and cats to the greatest collection of activities and experience that can be found in the City.
Their canine outdoor play area is the City's largest outdoor off-leash play area for dogs, and they operate the nation's only "outdoor" safari experience for cats. Pet Camp was the country's first green certified pet care facility.
# # #