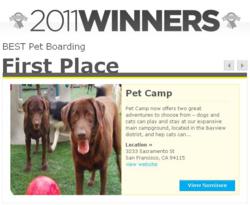 We're thrilled that for the third year in a row our campers have voted us the Best Place to Board your pet in the Bay area
San Francisco, CA (Vocus/PRWEB) April 07, 2011
Every year thousands of consumers vote on SFGate.com to determine the best local businesses, or Best of the Bay, in many different categories. On April 1, 2011 Pet Camp was awarded first place winner for Best San Francisco Pet Boarding by SFGate.com readers.
"We're thrilled that for the third year in a row our campers have voted us the Best Place to Board your pet in the Bay area," said Virginia Donohue of Pet Camp in San Francisco. "Our clients appreciate the extraordinary care we provide to their dogs and cats. They also love supporting a green business that goes to great lengths to preserve the earth."
Pet Camp offers exciting activities for dogs including all-day-play, group play, play time for the socially challenged, private playtime, and even a swimming pool. It also features a full grooming facility, a dog and cat camp, and offers its services to one-day visitors. Cats may enjoy fish tanks, cat trees, disco lights or a trip to the landscaped safari garden.
Pet camp constantly strives to be "green" by having environment-friendly facilities such as solar energy systems at each building that supply about half of their electrical needs, a tankless hot water heater, and numerous energy-saving measures.
"One thing that sets Pet Camp apart is that we are big enough to offer a wide range of activities for dog and cat campers, but still small enough to provide individual love and attention," said Donohue. "Special discount adventure packages are available to help keep your pet active, involved, healthy and happy."
For more information about Pet Camp, its facility, or kitty and doggie daycare in San Francisco contact them by phone at 415-992-7173, email them at havingfun(at)petcamp(dot)com, or visit their website at http://www.petcamp.com.
About Pet Camp
Since opening their doors 13 years ago, Pet Camp has become the premier provider of lodging and cat and dog daycare in San Francisco. (Pet Camp can be found by searching for "San Francisco dog kennel" on Google, but they think of themselves as more of a "canine lodge.") They treat dogs and cats to the greatest collection of activities and experience that can be found in the City.
Their canine outdoor play area is the City's largest outdoor off-leash play area for dogs, and they operate the nation's only "outdoor" safari experience for cats. Pet Camp was the country's first green certified pet care facility.
# # #