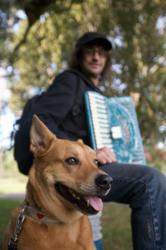 VET SOS is grateful to Pet Camp for naming VET SOS the beneficiary for their first ever 'Movie Night' event where all proceeds will go to help us provide greatly need services in our community
San Francisco, CA (PRWEB) September 07, 2011
San Franciscans and their dogs are invited to a picnic-style outdoor screening of the ultimate dog lovers' movie for a great cause. Pet Camp, the premier San Francisco overnight pet boarding facility and daycare center, will screen Turner & Hooch on the Savannah outside their facility, with $10 admission going to support the amazing work of VET SOS. The screening will be on Saturday, September 10th. Doors open at 7:15 pm, and the movie starts at 7:45.
"Bring the lawn chair, the beach blanket and your well-behaved dog," invites Virginia Donohue of Pet Camp.
Turner & Hooch is the story of an obsessively neat detective (Tom Hanks) trying to solve a murder. The only witness to the crime is the man's dog, a slobbery Dogue de Bordeaux (Beasley the Dog) prone to misbehaving, who Turner adopts in the hope that the dog will help him solve the case. Hijinks ensue.
Proceeds from tickets and concessions will go to VET SOS, a volunteer-based project that provides free veterinary care for the companion animals of homeless San Franciscans.
"When you live on the streets, it is easy to feel isolated and difficult to feel hopeful about the future. In recent years, social services experts working with homeless people have discovered that pets can serve as a great source of emotional support, promote responsibility, and act as a social catalyst for homeless people to interact with others," explains Dr. Ilana Strubel, VET SOS project coordinator.
"VET SOS is grateful to Pet Camp for naming VET SOS the beneficiary for their first ever 'Movie Night' event where all proceeds will go to help us provide greatly need services in our community."
The folks from VET SOS will be selling snacks and drinks, but attendees are invited to bring their own adult beverages. No glass please—it's murder on the paws.
Tickets are available online at http://www.eventbrite.com/event/1567248683.
About Pet Camp
Since opening their doors 13 years ago, Pet Camp has become the premier provider of lodging and cat and dog daycare in San Francisco. (Pet Camp can be found by searching for "San Francisco dog kennel" on Google, but they think of themselves as more of a "canine lodge.") They treat dogs and cats to the greatest collection of activities and experience that can be found in the City.
Their canine outdoor play area is the City's largest outdoor off-leash play area for dogs, and they operate the nation's only "outdoor" safari experience for feline guests of the San Francisco cat daycare. Pet Camp is the country's first green certified pet care facility.
For more information about the screening of Turner & Hooch or Pet Camp's services, contact them by phone at (415) 992-7173, visit their website at http://www.petcamp.com, or become a fan by clicking on the "like" button on their Facebook page at http://www.facebook.com/PetCamp. Pet Camp is located at 525 Phelps Street in San Francisco.
About VET SOS
Recognizing the benefits of the human-animal bond for both humans and pets, VET SOS, a volunteer-based project of the San Francisco Community Clinic Consortium, provides free veterinary care for the companion animals of homeless San Franciscans, provides veterinary examinations, basic veterinary procedures, vaccinations, and acute care to homeless pets.
The added benefit of their veterinary care is that VET SOS has been successful in connecting homeless clients with needed health and social services—the first step to turning their lives around.
For more information about VET SOS, please call them at 415-355-2248 or visit vetsos.org.
###