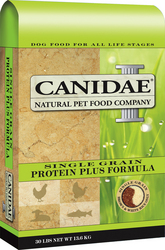 San Luis Obispo, CA (PRWEB) October 22, 2010
Canidae Pet Foods announced today it will begin shipping the company's newest super-premium product, Single Grain Protein Plus, into distributors throughout North America during Q4 2010.
Single Grain Protein Plus marks the beginning of a new Canidae line of natural and holistic pet foods designed to complement the existing Canidae product lines which include their grain free offerings for dogs and cats, and the company's renowned line of meat-based canine and feline diets formulated with a hand-picked selection of diversified carbohydrates.
This new line of pet food offers an alternative to both the diversified carbohydrate approach, and the grain free solution, both so successful in Canidae's other lines. The nutritional focus of Canidae Single Grain Protein Plus is to offer 29% total protein, restrict the grain source to rice exclusively using a wholesome combination of both brown and white rice, and to offer five high quality protein sources in total, beginning with fresh chicken as the first ingredient followed by chicken, turkey, lamb, and fish meals.
"Our new Single Grain line is designed to give our customers simple, natural results they can count on. With wholesome rice and fresh chicken, backed by the nutritionally dense combination of four additional proteins, we offer yet more freedom of choice with another product that we feel dogs and their owners will both love," said Frank Hon, Director of Operations for Canidae.
As with all Canidae products, Single Grain Protein Plus is natural, holistic, and features Canidae's balanced blend of Omega fatty acids, which supports shiny coats and healthy skin. Containing only the highest quality ingredients, all lines of Canidae pet foods and treats are meat-based, contain essential vitamins and amino acid chelated minerals, and provide guaranteed viable micro-organisms and enzyme activity.
Made in the U.S.A., all of the company's products are made without corn, wheat, soy, grain fractions, or fillers and are naturally preserved.
About Canidae Natural Pet Food Company
Founded out of love for pets and animals, Canidae Natural Pet Food Company manufactures and distributes a complete line of healthy meat-based, holistic, natural dog food, cat food, and gourmet pet treats sold worldwide through independent pet food retailers including over 6,500 locations throughout the United States and Canada. A trusted brand since 1996, the most recent information about Canidae and its line of healthy pet products is available by visiting http://www.canidae.com.
###