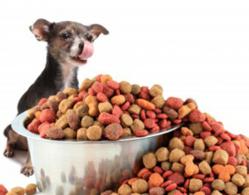 We asked a lot of questions. Some of what we learned was comforting and promising. Some of what we learned was really shocking.
Boca Raton, FL (PRWEB) October 03, 2012
The popular dog news site, Dogington Post, recently attended the pet industry's leading trade show event, SuperZoo, last month in Las Vegas. Leading manufacturers of pet products were in attendance, including those from most major pet food brands.
While there, representatives from the site met with several pet food manufacturers in an effort to address the growing demands of pet consumers for higher quality dog food. As a result of those meetings and subsequent interviews with Greg Shearson of Merrick Pet Care and David Yaskulka of Halo Pets, Dogington Post will release an exclusive report detailing its findings to the public.
"We wanted to go straight to the source to find out how dog food companies have reacted to big changes in the pet community," said Harlan Kilstein, Dogington Post's 'Top Dog'. "How have these companies changed in the wake of so many recalls? What are they doing to meet the growing popularity of natural and holistic foods for pets?"
Dogington Post reaches over 2.6 million dog lovers each week. The site has a very active following through social media and geared interview questions around the topics the site's readers are most interested in.
"Consumers are afraid of food from China. How are pet food companies responding? We asked a lot of questions. Some of what we learned was comforting and promising. Some of what we learned was really shocking."
The exclusive report will outline the many ways Dogington Post discovered that the pet food industry is changing including changes in where they source ingredients, where they manufacture their foods, and even completely redesigned consumer-friendlier packaging.
The report will also offer suggestions to consumers for how to choose a company that makes dog food they can feel comfortable feeding their pets.
Dogington Post also provides consumers with contact information, resources, and encouragement to continue to demand improvement in the pet food industry.
The report will be made available as a free download to anyone who registers for it on the website.
To find out more about Dogington Post and their exclusive report, "The State of Dog Food Today," visit http://dogingtonpost.com.
About Dogington Post:
DogingtonPost.com was created for the love of dogs. It promises a forum of informative articles, newsworthy dog stories, health and breed information, and heartwarming videos. The site addresses current issues affecting dogs and their human parents – from serious health concerns to lifestyle issues on feeding, grooming and the overall well-being and mental health of dogs. It is the Internet newspaper, all about dogs.