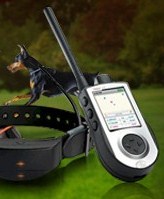 A GPS Dog Collar and a remote Dog Training Collar competitively priced and feature packed.
Annandale, New Jersey (PRWEB) September 27, 2012
SportDOG Brand® introduced the first combination Dog GPS Tracking and Training collar to hit the market and is also available as a GPS Dog Collar only system.
The industry's first combination remote training and tracking system: The TEK series for hunters who run hounds for lions, bears or hogs; beagles for rabbits; or any dogs used for upland birds, the TEK series provides Dog GPS tracking capabilities in a compact, handheld device. Track up to 12 dogs' locations up to 7 miles with just a glance at the backlit liquid crystal display screen.
The TEK 1.0 is available in two formats based on a single, unique handheld device. Collar-receivers come as separate, compact modules that fit together on a single collar strap. The receivers feature SportDog™ Brand's DRYTEK® design, so they are waterproof and submersible up to 25 feet. The handheld device is waterproof and submersible up to 5 feet.
Although the TEK Series was created for hunters it is great for all dog owners. It is a Dog GPS tracking system which can be paired with a remote training collar, both controlled via a single hand-held transmitter!
Dog wireless Plus has chosen to market the TEK Series Dog GPS To all dog owners not just hunters. Competitively priced and feature packed it is a viable option for dog owners looking off leash training capabilities and the comfort of knowing the location of their dog in any situation that may arise in the training process.
About Dog Wireless Plus
Started in the summer of 2012 Dog Wireless Plus is dedicated to providing Dog Wireless and Dog GPS products to track, train, and contain dogs. Dog Wireless Plus features helpful ways to teach dogs, including wireless dog fencing and GPS dog collars. Some dogs may seem nearly impossible to train, but a simple shock collar for dog training or other dog wireless device can provide the solution. For the very best in dog training products, shoppers can visit http://www.dogwirelessplus.com/