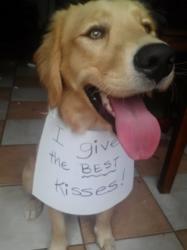 Publicly insulting dogs does not help their image. Instead, we encourage people to share the positive, endearing qualities of their dogs.
Boca Raton, FL (PRWEB) August 28, 2012
Dogs have been all over the news lately, but not for being the lovable, loyal and kissable furry friends we cherish. Instead, they're making headlines with Dog Shaming.
Featured on the Today Show, a popular new Tumblr blog, Dog-Shaming, seeks to use humor to publicly shame dogs that misbehave. The dogs are photographed by their owners next to messages written on paper stating what the dog did wrong.
Some examples are a small black and brown dog with the message, "I get scared at the vet so I poop in your lap," and an English Bulldog who is publicly shamed for eating cat litter with a sign that reads, "Litter Lips."
"While the site is meant to be humorous," said Harlan Kilstein, Top Dog at Dogington Post, "We fail to see humor in having the world make fun of dogs, especially when the dog misbehaved because he was scared."
The popular dog news site started a campaign entitled, "Dog Shaming is Dog Abuse" and asked for the support of the dog loving community to end Dog Shaming. The site holds the opinion that dogs are family and should not be made fun of.
"All over the country people are abusing their dogs. People are attacking dogs. People are mistreating dogs," said Kilstein, "Publicly insulting dogs does not help their image. Instead, we encourage people to share the positive, endearing qualities of their dogs."
Dogington Post believes that at a time when homeless dogs are at an all time high, when shelters and rescues are overflowing with dogs in desperate need of loving homes, spreading a message of shame surrounding these amazing animals could be contributing to the problem.
Dogington Post reaches over 2.6 million dog lovers every week. The site is asking fans and readers to submit photos of their dogs with signs that deliver a positive message instead of a shameful one.
Each week during the campaign, Dogington Post will publish the submitted photos to the site in an effort to spread the message of positivity and focus on the endearing qualities of dogs. Rather than shaming dogs, the dog news site is celebrating them.
For more information about Dogington Post and their effort to Celebrate Dogs and stop Dog Shaming, visit http://dogingtonpost.com and check them out on YouTube.
About Dogington Post:
DogingtonPost.com was created for the love of dogs. It promises a forum of informative articles, newsworthy dog stories, health and breed information, and heartwarming videos. The site addresses current issues affecting dogs and their human parents – from serious health concerns to lifestyle issues on feeding, grooming and the overall well-being and mental health of dogs. It is the Internet newspaper, all about dogs.