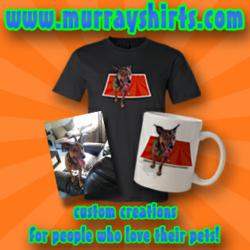 Multiple colors of shirts are now available to extend more options for choosing the customized shirts and graphics available.
Albany, New York (PRWEB) June 29, 2013
The pets industry includes multiple types of toys, food and health products purchased by consumers. Few options exist online for owners of pets to create customized apparel. The MurrayShirts.com company is now printing dog shirts for pet owners online. These shirts are professionally designed and printed using a 21st century process to assure high quality standards. A pet owner interface is now established online to make ordering these shirts effortless at http://www.murrayshirts.com.
"Our concept has been well received by pet owners worldwide," said Shon Strickland, owner of MurrayShirts.com. The custom printed textiles industry has opened up new markets for different products to be printed using better technologies.
"Our printing process is unlike iron-on transfers or basic home screen printing," Strickland added. The use of new direct to garment printing processes is now changing the full-color printing process and lowering the cost per print.
The printed shirts for dogs has been expanded this year to include shirts for other animals. Printed t-shirts for cats, horses, bunnies and other popular domestic animals can now be customized and ordered online. A team of designers has been put into place to offer guidance during the design process. Each order now submitted online has the option to be completely customized by a designer. This service is typically offered for extra fees by other companies.
Because this company is using better printing technologies, the actual printing process can be completed faster to improve turnaround time for consumers. Multiple colors of shirts are now available to extend more options for choosing the customized shirts and graphics available. A toll-free telephone support number is now established to provide immediate customer service before or after each order is placed online.
About MurrayShirts.com
The MurraryShirts.com company custom prints t-shirts, coffee mugs and other printed substrates for pet owners online. This company launched its concept of customized pet apparel in 2013. Investments into the latest printing technology for full-color printing are now in use by this company to supply higher quality prints for each shirt or product produced. The MurrayShirts.com company redesigned its ordering system online to make designing and ordering shirts simpler for pet owners. A complete e-commerce system now provides a faster method of checkout and order delivery to customers in any part of the world.