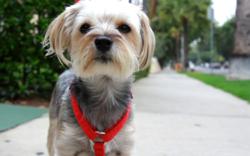 People have enough going on, and remembering to buy poop bags isn't a top priority. With Poop Bag Club, you sign up once and then never have to think about it again.
Los Angeles, CA (PRWEB) August 08, 2012
Dealing with dog waste is a dirty job, but help has arrived in the form of Poop Bag Club, a monthly delivery service of eco-friendly dog poop bags. The new membership-based website offers dog owners the choice of three auto-ship plans and two types of poop bags, plus a free dispenser with the first shipment.
"Any dog owner who walks their dog regularly needs poop bags, so we saw an opportunity to provide a service that is convenient and affordable," said co-owner Danielle Mead. "Our goal is to reduce the amount of dog waste left on neighborhood streets while doing it in a way that is earth-friendly."
Joining Poop Bag Club is quick and easy. New members select from one of three plans based on the number of dog walks they typically take per day. They then choose which type of poop bag they prefer – the standard eco-friendly bag, which breaks down in about 24 months in a landfill, or the premium compostable bag, which breaks down in as little as 40 days. The eco-friendly bags are certified with ASTM D6954-04 certificates, while the compostable bags meet the ASTM 6400 gold eco-certification standard and are one of the first poop bags to comply with California's SB1749 law.
"People think plastic bags from the grocery store are biodegradable, but they're really not," explained Mead. "They can take hundreds of years to decompose. And with cities such as Los Angeles, Seattle and Portland banning single-use plastic bags, poop bags are quickly becoming a product that every dog owner must have on hand at all times."
While poop bags are available in pet stores, they are not usually sold in grocery stores or drugstores where many dog owners shop for basic dog supplies like food, treats or toys. Purchasing them online usually means paying for shipping and being without bags for a few days. Poop Bag Club offers free shipping on all deliveries and their automatic monthly shipments ensure dog owners don't run out before they have time to visit a specialty store.
"Picking up after your dog shouldn't be something that requires planning," said co-owner Matthew Goodman. "People have enough going on, and remembering to buy poop bags isn't a top priority. With Poop Bag Club, you sign up once and then never have to think about it again."
Dog waste is a blight in many neighborhoods; it can carry worms, pollute local water sources and even spread bacteria into the air. Poop Bag Club hopes that its service will help reduce the environmental impact of dog waste and improve quality of life, especially in urban areas where dogs don't have access to yards.
Plans start at $10 per month and can be changed or canceled at any time. Dogs owners interested in learning more or becoming a member should visit Poop Bag Club online at http://www.poopbagclub.com.
About Poop Bag Club
Poop Bag Club is a subscription service for dog owners, delivering eco-friendly and compostable poop bags on a monthly basis. The company was founded by former Shoes.com executive and e-commerce consultant Danielle Mead and her husband, filmmaker Matthew Goodman. The two also own WelcomeMutt.com, an online boutique offering stylish and eco-friendly dog products, many made in the USA.