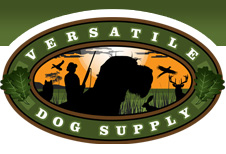 (PRWEB) January 18, 2013
Versatile Dog Supply is giving its customers a chance to save by simply showing their appreciation for the online store's product line.
As part of a new promotion, the business is offering shoppers a chance to save 5 percent when they share their thoughts about Versatile Dog Supply products via social media.
Those who tweet, post and pin their views on the company's extensive product line – which ranges from dog collars, dog boxes and dog-training systems to dog leads, dog-training whistles and bird-launcher systems – will receive a discount coupon.
While customers can claim only one coupon per item, they are invited to share information on as much merchandise as they wish to receive coupons for those specific products.
"For dog owners seeking discounts on all of our high-quality, dog supply product line, this is about as easy as it gets," said Sean Hicks, Versatile Dog Supply owner. "As a dog owner, hunter and trainer myself, I realize how important quality is to our clients. With this 'Share and Save' promotion, folks can have both the quality we are known for, as well as extra savings."
The company offers free delivery within the 48 contiguous United States for orders of $125 or more. Normal shipping rates apply for all other orders. They also ship internationally, provided the ordered product does not violate existing laws in the purchaser's country of origin. International customers are responsible for all customs fees, as well as any taxes that may apply.
"If you know a dog owner who loves to get out there and hunt – or perhaps they are considering a new hobby for the New Year – we encourage you to drop by our store while this special promotion lasts," Hicks said.
About Versatile Dog Supply
Versatile Dog Supply was founded in 2011, and specializes in dog training and hunting dog supplies for everyday use, and for the avid hunter. From bark collars, books and videos to dog travel mats and dog crates, the company has it all. The business is owned and operated by hunters and dog trainers who know the importance of having quality product. In addition to providing stellar customer service, the company has teamed up with the best manufacturers to offer only the highest quality product line. Some of the top-selling brands include DT Systems, Inc.; Dogtra; Lucky Dog; Garmin; Mendota Products, Inc.; and Tri-Tronics. For more information, visit: http://www.versatiledogsupply.com