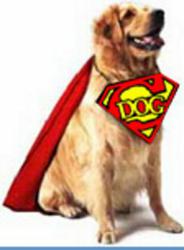 We're beyond thrilled with SuperDog and would highly recommend them to any doggy parent
San Francisco, CA (PRWEB) February 09, 2012
SuperDog, a professional San Francisco dog walker service is currently offering a limited time promotion for three free walks during February. Dog owners from all over San Francisco need only call SuperDog and mention the promotion to get the three free walks.
Since opening in June 2005, SuperDog continues to bring a professional, personalized and high-spirited dog walking services to San Francisco. For dogs lacking in dog-walking experience, SuperDog offers impromptu dog-training classes, catered to improve a canine's ability for name recognition and recall.
"We're beyond thrilled with SuperDog and would highly recommend them to any doggy parent," said Shay from San Francisco.
It is the goal of SuperDog to ensure the safety of all the dogs under its watch and the reason its dog walkers serve as a dog trainer and coach on the very first day. Good behavior is emphasized with treats, praise and other positive-reinforcement techniques.
Whether the client wants to take advantage of the very affordable San Francisco dog daycare rates on a full-time or part-time basis, no other dog walkers in San Francisco can rival the energy, positive attention and personalization of SuperDog.
SuperDog has 4.5 out of 5 star reviews on Yelp.com from people who have used its services. The company is a registered, insured and bonded business within San Francisco and an active member within Pet Sitters International and San Francisco's Animal Care and Control Organization.
For more information about its promotion or any of SuperDog's services, call 415-529-4362 or view the dog walking company on the web at http://www.superdogcity.com. SuperDog is located at 159 Lower Terrace, Apt. A, in San Francisco.
About SuperDog
SuperDog is a professional and personalized dog walking service in San Francisco. SuperDog provides daily group dog walks Monday through Friday, with each dog's age, size, temperament and needs kept in mind. SuperDog also offers professional dog-training classes and puppy training to provide dogs and owners a rounded education and a positive experience.
###