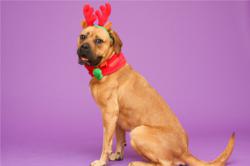 As we prepare to spend time to celebrate the season with our loved one, we feel particularly disheartened for our shelter animals who are waiting to find their family
Winnipeg (PRWEB) December 12, 2012
This Friday, December 14, The WHS will dramatically reduce the adoption fee to $28 in order to find a forever home for 28 dogs.
"As we prepare to spend time to celebrate the season with our loved one, we feel particularly disheartened for our shelter animals who are waiting to find their family," said Bill McDonald, WHS CEO.
Here are two examples of the 28 dogs that are available for adoption:
Lumberjack
On Aug. 15, 12 Lumberjack was found as a stray off of Lagimodiere in rough shape. Our veterinarians discovered he was positive for Heartworm, meaning he would have to spend months in a foster home getting treatment and having restricted exercise. Our veterinarians also discovered he had an untreated infection that left his ear canal badly damaged. He then underwent an ear canal ablation, which is the complete removal of the ear canal. We also determined that he has allergies to certain food. Lumberjack is a beautiful dog with a graceful prance.
Hailey
Hailey was brought to The Winnipeg Humane Society with serious wounds causing us to believe she may have been hit by a car. X-rays revealed that she had a painful fracture to her left hind leg. Our veterinarians operated to repair the fracture, putting in a bone plate that will stay with her for life. After her surgery she spent months in a loving foster home where she received daily rehab treatments like massage and physiotherapy. If you see Hailey now you'd never guess she's been though all of this! Her leg has healed nicely and she's no longer in any pain.
The 28 dogs for $28 promotion will be held on Friday, December 14, 10am – 7pm. To find out if you are ready for a dog, please visit: [http://www.winnipeghumanesociety.ca/are-you-ready. To ensure you are prepared for The Winnipeg Humane Society's adoption process, please read: http://www.winnipeghumanesociety.ca/adoption-requirements
###
The Winnipeg Humane Society is a registered charity and non-profit organization whose mission is to protect all animals from suffering and to promote their welfare and dignity. Funded primarily by donations, memberships and bequests, The WHS has pets for adoption to the public. All pets offered for adoption and sale have been spayed or neutered, received necessary shots and treatments, and a behaviour assessment. If you'd like to learn more about cats or dogs for sale or The WHS please visit http://www.winnipeghumanesociety.ca