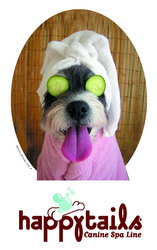 The owner will be given an understanding of the causes of the problem and guided toward a variety of long term solutions
Los Angeles, CA (PRWEB) October 31, 2007
Today's conscientious pet parents can rest-assured that they are taking excellent care of their barking babies. Happytails, the leader in high end grooming and wellness products, launches an interactive questionnaire to determine if the family pet is happy and healthy or plagued by allergies and fleas.
The happytails dog survey is an online questionnaire that takes less than two minutes to complete. It asks the user a series of questions designed to pinpoint health and wellness related issues faced by the modern dog. Once the questions are completed the site presents an analysis of the dog's general health and well being.
For example if you answer "yes" to the question "Does your dog scratch more than five times a day?" The questionnaire will offer insight into the cause of such itching (allergies, dietary problems and of course insect bites). But the questionnaire will go one step further to also recommend products that can help.
"The owner will be given an understanding of the causes of the problem and guided toward a variety of long term solutions," said Kevin Fisher, Alpha Male of Happytails. "Dog ownership comes with a tremendous responsibility and today's owners often don't have the time to do all the necessary research. This is a quick and easy way to obtain useful information"
The service is free and can be found at http://www.happytailsdogsurvey.com/
happytails donates a portion of proceeds from the sale of its products to Canine Companions for Independence, a non-profit organization that enhances the lives of people with disabilities by providing highly trained assistance dogs and ongoing support to ensure quality partnerships.
Los Angeles-based happytails sells and markets happytails spa products for the dog about town. happytails Canine Spa Line uses the finest ("better than human quality") ingredients available to pamper, soothe and beautify today's harried hound. The products can be ordered through the company website at http://www.HappytailsSpa.com or by calling 1-866-HAPPY-20.
###