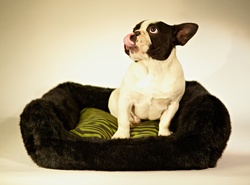 Snub bleeds fashion-forward design with insightful product development based on extensive research of dog sleeping behaviors.
San Francisco, CA (PRWEB) March 15, 2011
Snub®, the lifestyle dog brand, is proud to announce its signature, runway-inspired collection of functional dog beds for small dogs with big canine dreams. Designed to cater to the modern dog guardian, Snub bleeds fashion-forward design with insightful product development based on extensive research of dog sleeping behaviors.
By providing today's dog guardian a slice of style straight from the catwalk, owners are able to enjoy design that flirts with Warholian pop and pays homage to Missoni. Textures that Jonathan Adler may preen without the uberchic prices, selling for $129 per SnubBed® which includes the frame and SnubPad®. Snub is a far cry from the various boring or cheesy beds currently on the market. Colors include Fiery Bitch (hot pink), Military Brat (green), Silver Spoon (grey), and Ice, Ice Baby (light blue) and provide guardians an opportunity to match their pups' personalities with the interior aesthetic of their home.
Snub has married this look with an understanding of the four main sleeping positions of dogs—Belly Sleeper, Back Sleeper, Curled-in-ball Sleeper, Lying Back-to-back Sleeper. This knowledge has guided the decisions of the height of the frame, washable fabric choices, amount of high-quality cotton stuffing and overall shape and size of the structure.
"Snub's innovative approach both in structure and design creates an entirely new market for owners who want dog beds that mirror their own individual style," stated Remy Allis, Snub's founder. Ms. Allis is a successful entrepreneur having sold two businesses to date, Snub will be her third venture and intersects her two passions, start-ups and dogs.
Currently, SnubBeds and SnubPads are sold exclusively at snubnosed.com. Prices include $129 for the SnubBed and $35 for each additional SnubPad. The concept is simple—purchase a SnubBed and return for a different SnubPad design as new collections are released each season. In celebration of our release, Snub is offering free domestic shipping through April. Snub is also a proud supporter of the Humane Society and gives five percent of its net proceeds to national and local shelters that fight for animal rights and encourage pet companionship.
About Snub
Launched in 2011, Snub is a lifestyle dog brand based in San Francisco, CA. Snub creates pet supplies that reflect the individuality of the dog and their guardian. Snub's newest release is a modern dog bed collection featuring faux mink fur fabrics and fashion-forward patterns creating a luxury dog bed for small dogs. To purchase SnubBeds, SnubPads, review product photography and the Snub blog, please visit http://www.snubnosed.com. Additional updates can be found at http://www.fb.com/snubbeds and http://www.twitter.com/snubbeds.
Editor's Note: High-resolution photography is available at: http://www.snubnosed.com/pages/media.
In addition, interviews are available by Remy Allis, Snub Founder, on the topic of Snub, dog sleeping behaviors, and start-up life.
###