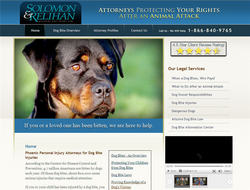 Phoenix, AZ (Vocus) October 5, 2010
According to the Centers for Disease Control and Prevention, Dog bites pose a greater risk on children's health than measles, mumps, and whooping cough combined. The American Veterinary Medical Association states that children under 15 years of age are the most common victims, while boys between the ages of five and nine are the most frequent victims. Children account for almost 70 percent of dog bite injuries while they account 79 percent of fatal dog bite injuries.
1-year olds hold the highest number of any age group under 12 for fatalities. They account for 19 percent of unsupervised fatalities. 2-year old children accounted for 11% of dog bite cases. 87 percent of those were fatalities left unsupervised.
Solomon and Relihan is a Phoenix-based law firm that has worked with accident victims of all kinds for over 30 years, including many child dog bite victims. Through working with victims, we have observed some common causes of these incidents and put together some practical, easy-to-use tips for parents and children to prevent dog bites. By following these tips, children will be much less likely to be bitten by a dog.
Preventing Dog Bites For Children
Maricopa County Animal Care and Control suggest to prevent dog bites people should:

Do not wrestle or chase a dog
Do not play fetch games or hide n' seek alone
Ask the dog's owner for permission to touch a dog
Do not bother a dog that is eating
Do not be unsupervised with a dog
However, even if your child followed all of these precautions, a negligent owner's dog can still bite you. If this happens, the owner should be held responsible and Arizona dog bite injury lawyer can help.
Common Location Bites on Children
Otolaryngology-Head and Neck Surgery Magazine studied common bites on children. They found that the following were the most common locations for dog bites on childrern:
34% Cheeks, Head, Neck
8% Nose and ears
21% Lips
Effects of Dog Bites on Children
The average dog bite would size was 7.15cm on multiple areas, with massive blood loss and trauma.
Contact an Arizona Dog Bite Attorney
If any of dog related injuries occur, fatal or not, the owner should be held responsible and Arizona dog bite injury lawyer can help. Even with prevention, dog bites and attacks occur. If you are unable to prevent a dog bite related injury and as a result, you or a loved one have been the victim of an attack, our Arizona dog bite injury lawyer can help get the compensation you deserve. For more information see http://www.azdogbitefirm.com.
# # #