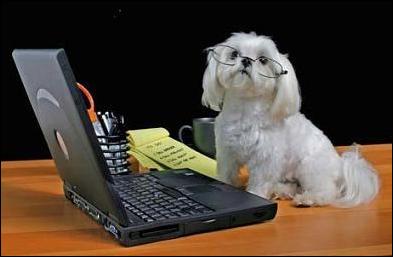 San Diego, CA (PRWEB) November 15, 2006
Chiclet T. Dog, the adorable though opinionated four-pound author of "Scared Poopless: The Straight Scoop on Dog Care," has won the 2006 USABookNews Award for the Best Animal/Pet Care Book. In May she won the Benjamin Franklin Award for Best Health Book -- hers being the only dog care book to ever win the Health category. Chiclet hopes this will finally quash the rumor that dogs can't write.
This pint-sized philanthropist and canine crusader campaigns for better nutrition for dogs, updated vaccination protocols, improved scrutiny of pet medications and increased safety for dogs. Ably assisted by Jan Rasmusen, her caregiver and translator, Chiclet seeks to modernize dog care and raise money for animal causes.
Though Chiclet makes it known that some of her best friends are people, she clearly has a bone to pick with humans about dog care. "All the top veterinary organizations, vet schools and immunologists have established new vaccine protocols for dogs," says Rasmusen on Chiclet's behalf. "Unfortunately, dogs continue to receive too many shots way too often. Old humans can't seem to learn new tricks."
Regarding canine nutrition, Chiclet believes it's very selfish of humans to label fresh, wholesome meats and vegetables 'people food.' She prefers the species-neutral term 'good food.'
"Chiclet is disturbed by human inconsistency," reports Rasmusen. "For their own diets, people tout the virtues of fresh foods and condemn highly-processed fast foods, yet they feed highly-processed foods to dogs. Chiclet finds that quite perverse."
Though diehard traditionalists may find Chiclet's beliefs a little unsettling, Jean Hofve, renowned veterinarian and Editor-in-Chief of the Journal of the American Holistic Veterinary Medical Association, calls Scared Poopless "wonderful" and her "very favorite dog care book." She suggests vets buy it by the case for clients. Animal Wellness Magazine, animal activist/actress Betty White, nationally renowned veterinarians and countless animal welfare advocates also endorse this amusing yet seriously informative book. Even the canine superstar Benji gives the book "two BIG paws up."
When asked if the fame that accompanies a second literary award will turn Chiclet into a doggy diva, Rasmusen responds, "Not a chance! Though she frequently complains that dealing with the paw-parazzi can be 'ruff,' Chiclet vows never to end the fight for improved health and safety for dogs."
About the book:
Scared Poopless contains the results of two years of research and interviews with top experts spiced with anecdotes, trivia and 89 outrageous full-color photos. Subjects range from Anesthesia to Vaccination, from Finding a New Dog to Finding a Lost Dog, and from Auto Safety to Separation Anxiety. Learn more about Chiclet and Jan Rasmusen at http://www.Dogs4Dogs.com. Autographed and paw-tographed copies, quantity discounts and wholesale prices are available for gift giving and resale.
About Jan Rasmusen and Chiclet:
Chiclet and Jan have appeared on television numerous times. Jan is a frequent radio guest and Chiclet has been a guest supermodel for charity fashion shows.
Media Inquiries:
Contact Jan for interviews, hi res photography, review copies and product information at 858-449-8898. Also visit her on-line Media Room. Short-notice interviews are welcomed.
Jan Rasmusen
858-449-8898
San Diego, CA
###