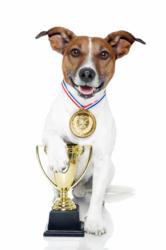 We looked specifically for celebrities that are genuinely devoted to dogs. They have used their highly public status to promote animal advocacy, and have gone above and beyond to improve the lives of dogs.
Boca Raton, FL (PRWEB) December 27, 2012
As part of a larger initiative to educate dog owners on proper nutrition, effective training, and other ways to raise a happy and healthy dog, the Dogington Post reviewed products, toys, food, treats and trainers for their first annual Dogington Post Awards of 2012.
Three companies, people, or products will be nominated in each of several categories including Best Canned Food, Best Dry Food, Best Organic Food, Best Raw Food, Best Treat, Best National Pet Store, Best Toy, Best Dog Trainer, Best Rescue, and more.
This week, the nominees for the Best Dog-Loving Celebrity category were announced via the website and Dogington Post's Facebook and Twitter pages.
"We're using strict criteria when nominating celebrities for these awards," said Brandy Arnold, Content Editor for Dogington Post. "The Best Dog-Loving Celebrity nominees have proven a dedication to helping dogs, either through charity or their own rescue efforts."
"Additionally," Brandy said, "besides simply nominating the most popular celebrities, we looked specifically for those that are genuinely devoted to dogs. They have used their highly public status to promote animal advocacy, and have gone above and beyond to improve the lives of dogs."
One of Dogington Post's Best Dog-Loving Celebrity nominees is Miley Cyrus. With a fan-base in the millions, the young singer and actress has brought astounding attention to animal rescue and adoption of shelter dogs. For her 20th birthday this year, Miley Cyrus asked over 10-million friends and fans to donate to her favorite rescue organization in lieu of birthday gifts. By encouraging dog rescue, Cyrus has truly made a difference for homeless dogs.
Miranda Lambert is the Dogington Post's second Best Dog-Loving Celebrity nominee. The Country Music Association's Female Performer of the Year has been using her famous voice for more than just singing. Lambert and her husband, fellow Country Music star Blake Shelton, share their home with six rescue dogs. But, the singer's dedication to dog rescue goes far beyond that. She started a non-profit rescue in 2009 and is directly involved in building animal shelters, increasing adoption and rescue, funding spay and neuter programs, and training dogs for therapy and dogs-in-prison programs.
Rounding out the Dogington Post Awards Best Dog-Loving Celebrity nominees is Ellen Degeneres. As co-owner of a major pet food company and foundation, the talk show host and comedian strives to provide pets with happier, healthier, longer lives by providing the best quality food available. Additionally, the Ellen and her company provide healthy foods to shelter dogs around the nation, ultimately making them healthier, happier, and more adoptable. Ellen is focused on bringing awareness to dog homelessness and encouraging her fans to open their homes to rescue dogs.
Dogington Post reaches over 2.5 million dog lovers each week. The site's readers will be asked to vote for their choice of the three nominees to win the Dogington Post Award in the Best Dog-Loving Celebrity category.
All award winners will be announced after each of the categories have been voted on. Winners will be chosen by a combination of fan votes and committee and announced in January 2013.
Winners will receive the Dogington Post Top Dog Seal of Approval, massive social media recognition and a press release by Dogington Post announcing their award.
For more information about Dogington Post and their Dogington Post Awards, visit http://dogingtonpost.com.
About Dogington Post:
DogingtonPost.com was created for the love of dogs. It promises a forum of informative articles, newsworthy dog stories, health and breed information, and heartwarming videos. The site addresses current issues affecting dogs and their human parents – from serious health concerns to lifestyle issues on feeding, grooming and the overall well-being and mental health of dogs. It is the Internet newspaper, all about dogs.