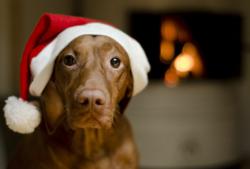 It's our goal that every one of our readers avoids a trip to the emergency vet this holiday.
Boca Raton, FL (PRWEB) December 21, 2012
Christmas is a time for friends and family to come together. It's also a time of year when Americans string up twinkling lights and decorations in celebration of the holiday.
According to L.A. Animal Services, veterinarians experience an increased number of office calls after the holidays. If celebrating with a dog, the Dogington Post warns, there are some holiday hazards to keep in mind to keep pets safe.
Just before the Christmas holidays, Dogington Post launched a pet parent education initiative to educate dog owners about certain dangers that have the potential to harm their dog.
"This time of year, we celebrate and decorate with lots of things that are new and exciting for our pets. A great big tree with twinkling lights, presents with fancy bows and ribbons... all things that are very enticing to a dog," said Brandy Arnold, Content Editor for Dogington Post. "...but also very harmful - even deadly - if ingested. In chaos of preparing for Christmas, or having a home full of family and friends, it's important to remember your furriest family members, too! Be aware of potential dangers - and let uninformed family that are visiting also know."
The popular dog news site reaches over 1.5 million dog lovers weekly. In the days before the national holiday, the site released an informative infographic outlining some of the potential dangers for dogs during the holiday. Some of the hazards on the list may come as a surprise.
"It's our goal that every one of our readers avoids a trip to the emergency vet this holiday," said Brandy.
In addition to spreading the word about the hazards of holiday decorations, Dogington Post also published articles about traveling during the holidays, cold weather safety, what foods are safe to share, a holiday gift guide and more.
For more information about Dogington Post and their latest efforts to promote holiday safety for dogs, visit http://www.dogingtonpost.com.
About Dogington Post:
DogingtonPost.com was created for the love of dogs. It promises a forum of informative articles, newsworthy dog stories, health and breed information, and heartwarming videos. The site addresses current issues affecting dogs and their human parents – from serious health concerns to lifestyle issues on feeding, grooming and the overall well-being and mental health of dogs. It is the Internet newspaper, all about dogs.