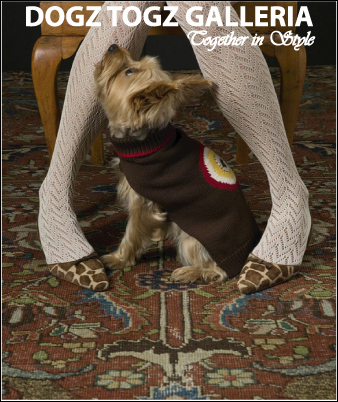 The goal of the Galleria has been to bring together top designers from around the world within one e-commerce site
Marblehead, MA (PRWEB) November 9, 2006
When the opportunity to market to 378 million pet consumers presented itself, Dogz Togz Galleria didn't hesitate. That's what happened when one-time designer/manufacturer, Susan B. Clark, transitioned her company into the retail sector of the thriving dog clothes and accessories industry.
"The goal of the Galleria has been to bring together top designers from around the world within one e-commerce site," says founder Clark, who has gained worldwide recognition of her own over the past three years with her dog clothes line, Dogz Togz. The Galleria sells a lifestyle image of sophistication, class and taste."Top designers that have not lent their designs to the e-commerce world are now readily available on the Galleria at attractive prices for all consumers within this growing market."
According to Clark, many of her vendors have been hesitant to go the e-commerce route for fear of diminishing their brand. But because of Clark's success at branding and as a designer within the industry, that fear has been eradicated. "After all, "says Clark, "I have been on both sides of the equation."
Dogz Togz Galleria gives pet lovers looking for designer dog clothes Clark's signature touch in her selection process of modern classic designs, today's fashions but not trends, and discipline that allows for simplicity and beautiful visuals. Clark's goal is to let dogs be dogs and have the dignity that they so deserve as she is still not sure whose idea it was to put these truly loyal companions in dresses.
Entrepreneurship is nothing new to Clark. Prior to Dogz Togz, equipped with an idea and little capital, she launched Bryce Executive Catering. Clark turned her Washington D.C. company of 15 years into a lucrative business that catered to private jets for Presidents, Heads of State, and Entertainment Luminaries.
So with her latest venture off and running, one could say that Clark has gone from the White House to the dog house.
The Galleria comes just in time for the holiday season as it appears that consumer spending on their four legged friends is stronger than ever. As reported in Pet Product News International, dog owners alone spend $14 billion annually on their 'best friends,' and the fastest growing sector of that shopping spree is on luxury items, such as designer dog clothes.
With an outlook like that, along with Clark's choices and philosophy, it appears that Dogz Togz Galleria is ready to take a bite out of the competition.
About Dogz Togz Galleria:
Nationally and internationally known Designer Susan B. Clark, Founder of Dogz Togz, a line of apparel and accessories for dogs, builds on her legacy. She continues to bring inspiration and the power of design to the industry she loves. Susan has launched Dogz Togz Galleria so that every dog has its day.
The Galleria brings to the e-commerce world the best of the best designers of dog clothes, apparel, and accessories. Susan has searched the world to offer you a well edited-line of fashionable styles that will be as relevant tomorrow as they are today. The designs that you will see represent both honest thoughtful design and practical purpose.
Dogz Togz Galleria brings to you today's top designers selection of Designer Dog Clothes, Dog Apparel, Dog Carriers, Dog Collars, Dog Leads, Dog Beds, Dog Furniture, Dog Jewelry, Dog Art, Dog Accessories, Dog Toys, Dog Treats and Food, and Dining for Dogs. The Galleria also offers wonderful Apparel and Accessories for the Owner.
The goal of Dogz Togz Galleria is to give everyone a truly exciting and enjoyable shopping experience and a company culture that places great value on gracious and impeccable customer service.
Web Design & Development by: Olympic Technology Consulting Services, LLC
###