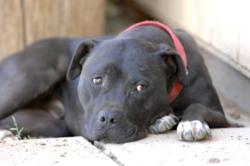 Best Friends Animal Society has been working to remove the automatic 'dangerous' stigma from dogs and puppies seized from fighting busts...but 13 states still have these arbitrary laws.
Kanab, UT (PRWEB) May 05, 2011
Florida Senate Bill 722, spearheaded by Best Friends Animal Society, passed the Florida Legislature today, opening the door for Gov. Rick Scott's signature that would remove the legal stigma that automatically branded dogs removed from dog fighting busts as "dangerous dogs."
Previously, the law required that all dogs primarily or in part involved in dog fighting be deemed dangerous dogs, even though they might not have been evaluated by experts. The bill will result in dogs rescued from fighting scenarios being evaluated individually to determine if the dog could be placed or whether the dog should be euthanized. This new legislation brings Florida in line with with a national trend toward individual evaluation of canines rescued from dog fighting busts.
The bill, which had unanimously passed in every committee and in the Senate, today cleared the full House by a 99-17 margin. The bill had bipartisan sponsors and co-sponsors.
"We have been working to remove the automatic 'dangerous' stigma from dogs and puppies seized from fighting busts," said Ledy VanKavage, senior legislative analyst for Best Friends Animal Society. "And although we are pleased with today's vote, 13 states still have these arbitrary laws. After SB 722 becomes law, we will continue our work to remove the designation in the other states as part of our national pit bull terrier initiative."
SB 722 provides local authorities with the option to conduct individual behavioral evaluations of all animals seized from dog fighting busts and to determine if the dogs can be rehabilitated and adopted. The individual evaluation is not required, but an option for animal control officials.
"This is a victory for the victims of cruelty rescued from the horrific conditions of dog fighting," said Gregory Castle, chief executive officer of Best Friends Animal Society. "We trust that Gov. Scott will sign the bill into law so that these dogs, where appropriate, can eventually be adopted into loving forever homes."
VanKavage, a nationally respected expert on pit bull terriers and reckless owner/dangerous dog legislation, testified last month in support of SB 722. Other animal advocacy groups, veterinarians, and rescue groups voiced their support for the bill by highlighting their work with dogs seized in fighting busts.
Additionally, Dolly, an AKC Good Citizen certified pit bull terrier believed to have been used as bait dog, paid a special recruiting visit to the capitol.
About Best Friends Animal Society®
Best Friends Animal Society is a nonprofit organization building no-kill programs and partnerships that will bring about a day when there are No More Homeless Pets®. The society's leading initiatives in animal care and community programs are coordinated from its Kanab, Utah, headquarters, the country's largest no-kill sanctuary. This work is made possible by the personal and financial support of a grassroots network of supporters and community partners across the nation.
To become a fan of Best Friends Animal Society on Facebook go to: http://www.facebook.com/bestfriendsanimalsociety
Follow Best Friends on Twitter: http://twitter.com/BFAS
###