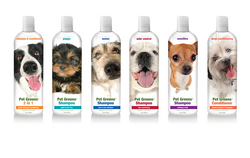 Our new Pet Greens Grooming Line is a great way to turn a routine dog wash into a spa treatment that restores the health and vitality of your dog's skin and coat
Chicago, IL (PRWEB) October 2, 2009
Bell Rock Growers, the pioneer grower and supplier of green nutrition products for pets, introduces a new therapeutic grooming line, made with soothing and healing wheat grass, oatmeal and botanical blends in six specialty formulas. Formerly known as Wags and Tails, the new Pet Greens® Grooming Line is designed for dogs of all ages, skin conditions and coat types. The Puppy formula is a gentle blend that is also suitable for kittens and adult cats. Pet Greens Grooming Line will debut with the complete line of Pet Greens products, during H.H. Backer's 43rd Annual Pet Industry Christmas Trade Show & Educational Conference(booth #731) at Donald E. Stephens Convention Center, October 2-4, 2009.
Pet Greens Grooming Line is specially formulated to deeply nourish and condition a dog's skin and coat, while offering the remarkable healing benefits of wheat grass and oatmeal. Wheat grass is rich in chlorophyll and antioxidant vitamins that soothe and heal dry skin while protecting the overall health of a pet's skin and coat. Oatmeal relieves the itching and irritation that can result from dry or cracked skin.
"Our new Pet Greens Grooming Line is a great way to turn a routine dog wash into a spa treatment that restores the health and vitality of your dog's skin and coat," says Bell Rock Growers Co-Founder Catherine Hoffmann.
Pet Greens Grooming Line contains five percent added wheat grass. Soap and detergent free, the mild coconut cleansers and conditioners will not remove topical flea products, such as Advantage®, Frontline® or Bio Spot®. All Pet Greens Grooming Line products are made with wheat grass and oatmeal, and contain botanical blends in six varieties:

Pet Greens Conditioner - made with restorative and softening vitamin E and papaya;
Pet Greens Puppy Shampoo - contains moisturizing and naturally antibacterial Aloe Vera. This gentle, soap-free formula is also great for kittens and adult cats;
Pet Greens Odor Control Shampoo - a proprietary blend of odor neutralizing ingredients doesn't just mask odors - it actually destroys them at a molecular level;
Pet Greens Senior Shampoo - made with Kava to relieve stress and condition and revitalize an older dog's coat;
Pet Greens 2 in 1 - mild coconut cleanser with conditioning papaya and botanical blends for healthy skin and coat; and
Pet Greens Sensitive Shampoo - mild coconut cleanser with Chamomile flower added to calm and heal irritated skin.
Pet Greens Grooming Line has a suggested retail price of $12.99 for 16 oz. bottles of shampoos and conditioners. Retailer prices may vary. Retailers and distributors are invited to visit Bell Rock Growers' booth (#731) at H.H. Backer's Christmas Show in Chicago to place orders and receive exclusive show offers.
Based in San Marcos, Calif., Bell Rock Growers is a certified organic grower of live wheat grass and the pioneer supplier of green nutrition products for pets. The company's complete line of products Powered with Green Nutrition® include: certified organic Pet Grass, Pet Greens Treats for dogs and cats, self-grow Pet Grass kits, live catnip, premium catnip buds, and an earth-friendly grooming line made with wheat grass. For more information, visit http://www.bellrockgrowers.com.
# # #