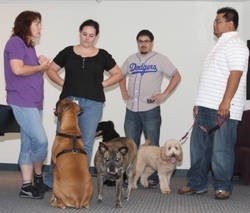 Most pet owners would agree that their dogs help them feel more creative in the office and they are more productive in that environment
Garden Grove, CA (Vocus) June 28, 2010
Friday, June 25 saw many wagging tails and wet noses in the workplace, as dog owners brought their pups to the office for Bring Your Dog to Work Day. PetStore.com, online retailer of pet accessories, participated in the event, encouraging employees to experience the benefits of spending the workday surrounded by pets.
"Most pet owners would agree that their dogs help them feel more creative in the office and they are more productive in that environment," said Mike Giove, chief operating officer for PetStore.com. "A few studies show that working with your pet decreases absenteeism and helps improve relationships between employees and managers."
According to the American Pet Products Association (APPA) 46 million individuals who bring their pets to the workplace state that as a reason to work longer hours.
To make the event special, PetStore.com provided dog supplies and treats, along with organizing activities for both the dogs and owners.
"We had a musical chairs activity for the owners and dogs, and the find-the-treat contest was a big hit," Giove said. "It was a great way to bond with all of the people here, and everyone had a good time. Many of the dogs that participated could do tricks, while others were happy just to be with their owners while sitting and eating."
PetStore.com gave out dog pet supplies prizes for the winners, including rawhide Red Barn bones and Greenies. Each participating dog received a toy bag with toys from JW Pet and Kong.
"Bring Your Dog to Work Day was a big success," Giove said. "As an online retailer of pet supplies, all the employees here are animal lovers, so this was like our own holiday."
About PetStore.com
PetStore.com prides itself on great prices, wide selection, speed of delivery and superior service. Ninety-seven percent of orders are shipped the same day. The company was designed with the intention of providing not only the best products at the most competitive prices, but to become the number one provider of pet products, education and information. Petstore.com has one of the most active online communities of pet owners on the Internet today. Inside the pet forum, there are a broad range of subjects discussed with new topics being added every day.
###