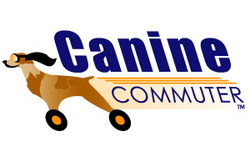 I have personally used or inspected the products and brands I offer on Canine Commuter
Washington, D.C. (PRWEB) June 17, 2008
Traveling with your pet is on the rise. The Travel Industry Association reports that nearly 30 million adults in the US have traveled with their pet. Dogs are the most common travel companions, joining their owners 78% of the time.
Why not take the Dog Along?
With the record high gas prices and current economic woes, why spend more money to board your pooch for a week at a pet hotel while you go on vacation? Take the dog along! Dogs love to travel with their owners and more and more destinations are becoming dog friendly. CanineCommuter offers products to help ensure Fido's comfort during your journey.
According to the Travel Industry Association, increasing numbers of families are including their furry, four-legged companion in their vacation plans. Eliminating the pet hotel stay for a week means an average savings between $400.00 and $1000.00 for one dog (depending on services purchased).
When you decide to travel with your dog (or other companion animal), here are a few tips to make things easier for both of you:
Your dog is a creature of habit. They like knowing when dinner will be served, when they will be walked, etc. Make sure to coordinate your travel schedule and plans with your dog's normal schedule. This will help ease any stress or anxiety your pet may have.
Familiar surroundings are comforting for your pet. A few weeks before your excursion, select a containment system for your dog. Whether it is a hard crate, soft crate, or a pop-up tent it is important to acclimate your pet to that product / environment prior to travel. Set up the containment device in your home and leave the door open. Toss in toys, treats and other items your dog finds fun. Let your dog adjust to it over the next few weeks and by the time you set off on your adventure, he will have acclimated to his luxury suite and will be less threatened by unfamiliar surroundings.
Bring ample food and water with you. A sudden diet change is not good for your dog's digestion; so make sure to bring extra food along. If you are traveling by car, it is also important to bring extra water for the trip up and trip back. If you typically water your dog from the tap, you may choose to bottle some of the tap water from home to help adapt your dog's system to the tap water at your vacation destination.
Air Travel. When you make your travel reservations, be sure to contact the airline to reserve a seat on the plane for your pet. Only the airline can make reservations for your pet - the discount travel companies cannot provide this service. An additional fee will be required to take your dog with you on the aircraft. Only two dogs are allowed per flight and you'll want to confirm space availability early. An airline approved carrier is required for transporting your pet with you in the cabin of the aircraft.
Microchipping. A permanent implant to identify your pet is a must when traveling. Most veterinary clinics offer the implanting service which can be completed during a routine office visit. Registration in a microchip database is required by the owner, but is generally included in the price of the chip. If your dog becomes lost and is picked up, a vet will scan for the chip registration number and you will be contacted to pick up your pet.
Health Certificate. When traveling by air, you will need to carry your pet's Health Certificate with you. Generally, you can obtain a health certificate from your vet a few days prior to travel. The certificate is required by all airlines (and some hotels). You should also carry health records with you during travel, in case of an emergency, but they do not replace the required Health Certificate. Confirm with your vet prior to traveling that your pet is up to date with all of his required vaccinations. It is also important to confirm with your vet that your pet has adequate flea, tick and heartworm coverage.
Veterinary Services. When you get to your travel destination, do you know where the closest Vet / Emergency Vet is located? In case your pet needs medical attention while on vacation, it is crucial that you be familiar with your surroundings. CanineCommuter provides you with access to the American Animal Hospital Association (AAHA) to find veterinary services located in your travel destination.
"CanineCommuter.com specializes in helping provide you with quality products and travel solutions for your dog (and other companion animals)," says Wolko. "Travel products, like dogs, are not one size fits all. At Canine Commuter, we take pride in understanding you, our client, and helping you select the best travel solution for your pet.
About Canine Commuter's Commitment to Quality and Safety:
"I have personally used or inspected the products and brands I offer on Canine Commuter," she says. "I focus on quality products for our customers. We offer some of the best brands in the business when it comes to pet travel, safety, comfort and fun! My dogs Spencer, Madison and Maggie can attest to that fact."
Among the offerings on the Website are innovative travel products like the SleepyPod Dog Carrier, an inflatable back seat extender and carriers for both motorcycle and bicycle travel by PetEgo,
luxury small dog carriers by CeCe Kent, Petote and Celltei. A variety of crates, safety harnesses, seat covers and booster seats as well as products for Boating and Water safety and Camping and Hiking are also featured.
# # #