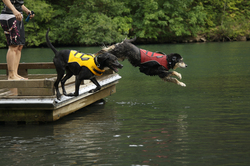 Both the Big Eddy Float Coat and Portage Float Coat were designed with www.ruffwear.com/canine-water-safety_2 [canine safety] in mind. In the water, dogs need the safety of a lifejacket just like humans do, regardless of swimming ability
Bend, Ore. (PRWEB) April 6, 2009
Dogs of all sizes and shapes are instinctive swimmers and most canines master the doggie paddle at an early age. Today, Ruff Wear, the leading producer of high performance dog gear, unveils two new canine lifejackets and a water-resistant dog bed for our four-legged companions. The Big Eddy Float Coat™, Portage Float Coat™ and Flophouse™ Foam Pad will be available, starting April 1, through specialty pet and outdoor retailers as well as through http://www.ruffwear.com.
According to the Sporting Goods Manufacturer's Association (SGMA), more Americans now paddle (kayak, canoe, or raft) than play soccer. In fact, paddle sports grew 10.3 percent from 2005 to 2006.* With the growing popularity of water sport vacations, canine water safety and canine life jackets are top of mind for water enthusiasts.
"Both the Big Eddy Float Coat and Portage Float Coat were designed with canine safety in mind. In the water, dogs need the safety of a lifejacket just like humans do, regardless of swimming ability," said Patrick Kruse, Ruff Wear's owner and founder. "More than ever, people are bringing their canine companions along for adventures in and around the water. We recognized the need for two different canine float coats, one for calm-water activities and another for demanding rough-water conditions. Using a float coat anytime your dog is around water just makes sense."
New Spring/Summer 2009 Dog Gear from Ruff Wear
Big Eddy Float Coat™
The ultimate in canine flotation and water safety - you and your water-loving canine companion will stay safely in the action when wearing the Ruff Wear Big Eddy Float Coat. This top-of-the-line life jacket is ideal for active dogs that frequent the water. It is built for aggressive swimmers in rough or fast-moving water, day or night. Designed with a heavy-duty ballistic nylon shell, this float coat is super abrasion-resistant to withstand extended use. Reflective trim and contrasting colors provide enhanced visibility. The heavily reinforced assistance handle makes it easy to lift dogs out of the water. MSRP: $74.95.
Portage Float Coat™
The Portage Float Coat is ideal for dogs who need a high-quality flotation jacket for recreational use at an excellent value. Designed to provide safety and peace of mind in and around the water, the wide size range fits dogs of all shapes and sizes. The Portage Float Coat is great for calm water activities, or for dogs that are less buoyant and/or new to the water. In addition, the low-profile assistance handle makes it easy to lift dogs out of the water. MSRP: $49.95.
Flophouse™ Foam Pad:
Built for dogs on the go, the Flophouse Foam Pad is low-profile and highly portable, ideal for traveling. The dense layers of foam are supportive without the bulk of heavier dog beds. The Flophouse is machine washable and quick drying. MSRP: (S) $59.95, (M) $74.95, (L) $99.95.
About Ruff Wear
Ruff Wear's mission is to enhance the interactive bond between canines and their human guardians. Ruff Wear encourages an active lifestyle for everyone with a four-legged friend - stay fit, healthy and happy - whether it's 15 minutes of playtime, a long walk, or a day hike. Our gear For Dogs On the Go® combines performance, quality, fit, function and safety to meet the needs of active and adventurous canines and their companions.
Ruff Wear is committed to preserving wild lands and waterways, providing important habitat for wildlife and recreational opportunities. Ruff Wear partners with The Conservation Alliance to give back to the special places so important to canines and humans. Additionally, Ruff Wear works with regional grass roots organizations, giving back to the community while further enhancing the bond between humans and canines.
Based in Bend, Oregon, Ruff Wear sells their line through specialty pet and outdoor retailers as well as through http://www.ruffwear.com.
###