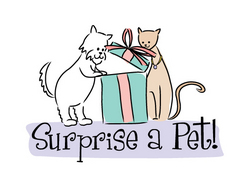 It's a one-of-a-kind gift giving process that the whole family can enjoy
Kansas City, MO (PRWEB) October 30, 2007
Just in time for the holidays, Surprise A Pet! has released an entirely new line of cat gifts and dog gifts full of pet-pampering products for lucky dogs and cats. In addition to great new individual gifts such as Spa Dog and Feline Frenzy, Surprise A Pet! now also offers pet lovers the opportunity to join a pet gift-of-the-month-club where gifts arrive on a regular basis (three, six or twelve months per year).
Ordering is done through Surprise a Pet!'s easy-to-use web-site (http://www.surpriseapet.com ), and "choice" is key to customer satisfaction. Pet 'surprisers' can select from a variety of dog gift and cat gift packages, each containing a combination of tasty treats, fun toys or pet-pampering spa items. Our items are unique and boutique, from small, caring manufacturers in the United States, ensuring quality and freshness.
Each pet gift is smartly wrapped and packaged and includes a special note from Joey, our 'spokesdog' or Luna, our 'spokescat', describing the contents of each gift to their fellow canine or feline.
"It's a one-of-a-kind gift giving process that the whole family can enjoy," offers Pederson.
Surprise a Pet! is perfect for holiday shopping when you are searching for a unique gift… perfect for your own pet, or someone else's (how about hostess gifts?). These quality packages are also perfect for corporate gifts, or for that hard-to-buy-for pet lover you know. Single-gift packages are a great value, at only $35.95 each. This is the sensational solution for someone who wants to welcome a new pet, or thank a family friend. Surprise a Pet! is the perfect way to spoil a pet.
Free shipping is available on the first gift for all gift club orders received by December 15, 2007. Surprise a Pet! gifts are available nationwide through http://www.surpriseapet.com or by calling toll free 1-888-702-2227.
Media Notes:
High-res photos are available. Contact Cindy Pederson at 888-702-2227 for more information. Product samples are available in limited quantities. Call for information.
###