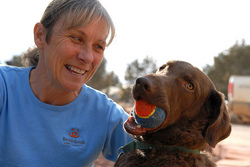 Sasha and Malia, I love you both so much, and you have earned the new puppy that's coming with us to the White House.
Kanab, UT (Vocus) November 6, 2008
Now that Barack Obama is president-elect, one of his first campaign promises for him to keep is to his daughters. And Best Friends Animal Society is confident that the First Dog for the First Family can be found among rescue groups and shelters.
During his acceptance speech, Obama said: "Sasha and Malia, I love you both so much, and you have earned the new puppy that's coming with us to the White House." Earlier the Obamas delighted animal welfare organizations by agreeing to adopt a dog rather than purchase one.
"Best Friends is the home of second chances and pet adoption is what we are all about," said Julie Castle, director of community programs for Best Friends, where approximately 600 dogs and 1,400 other animals call home. "We also can tap our vast network of shelters and rescuers around the country to help match the Obamas with just the right dog."
Dogs at Best Friends Animal Sanctuary in Utah live in an area called "DogTown," the subject of a national television series airing on the National Geographic Channel. It is also home to 22 of the pit bulls from the Michael Vick dog fighting case, a subject covered in a two-hour DogTown episode in early September.
"Our dog trainers have built a considerable reputation for being able to help challenging dogs succeed in homes, and all of the dogs adopted from here go through training," Castle said. "We would gladly send one of our trainers to the White House to help cement that bond with the new family."
Because the Obamas have allergies in the family, some have suggested they adopt a poodle, because poodles usually produce less allergic reactions. And one of his daughters reportedly wants a goldendoodle, a cross between a poodle and a golden retriever.
"Best Friends is here to say that there are good poodle and goldendoodle rescue groups across the country, as well as other breed-specific rescue organizations," Castle said. "And we have hundreds of great dogs at Best Friends, where in our adoptions we put a high premium on matching families and dogs--a win-win situation."
Best Friends created buzz around the Obamas' search for a dog in mid-July when it launched the web site, ObamaFamilyDog.com. In a matter of 24 hours approximately 20,000 dog lovers had signed a petition urging the Obamas to adopt from a shelter. The petition was capped at 50,000 in just a couple of weeks.
For more information about adopting a dog, Best Friends suggests a visit to a local shelter or looking online at any of the following web sites:
http://www.1-800-save-a-pet.com
http://www.pets911.com
http://www.petfinder.com
Potential adopters can also find a purebred dog from a breed rescue organization by searching http://www.google.com. Enter a city or state, the breed you are looking for, and the word "rescue."
"Best Friends Animal Society: Kindness to Animals Builds a Better World for All of Us"
Contact:
Barbara Williamson (435) 644-2001 ext. 4408 or 435-689-0200 (cell), barbara @ bestfriends.org
John Polis 435-644-2001 ext. 4858 (office) or 435-817-2980 (cell), johnp @ bestfriends.org
# # #