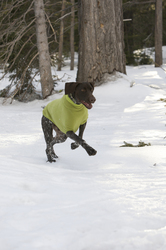 Bend, Ore. (PRWEB) September 28, 2009
Ruff Wear, the leading producer of high performance dog gear, introduces new products for Fall 2009 including a Polartec® recycled fleece dog jacket, two interactive toys, a lightweight, collapsible bowl and a strength-rated climbing harness for dogs. These new products will be available starting October 1st. Information about Ruff Wear products and the company's new dog blog can be found by visiting: http://www.ruffwear.com .
Eco-sensitive, budget-minded gifts for dogs
According to the Humane Society of the United States, thirty-nine percent of U.S. households own at least one dog, so even our canine companions are leaving their paw prints on the environment.
This holiday season, budgets may still be tight, and dog lovers will need affordable gifts for their canine companions. Ruff Wear makes it possible to stay under budget with new eco-sensitive stocking stuffers for dogs. Ruff Wear is unveiling two new interactive "green" toys this fall that dogs will love. The SquareBall™ rubber dog toy features interactive commands for training or play. The Sqwash™ is a pliable rubber toy that is soft on dogs' teeth and gums. Like all Ruff Wear rubber toys, they are made from natural (versus petroleum based) rubber, a renewable and sustainable resource.
Give your four-legged friend the gift of warmth with the Climate Changer™ Fleece Jacket, the newest addition to Ruff Wear's performance apparel line. Made with Polartec® Classic 200 recycled fleece fabric, this jacket is great for dogs that love to be outside in cold, clear conditions. The Climate Changer is also comfortable enough for dogs to wear indoors for extended periods. This fleece dog jacket contains 87 percent recycled content, minimizing the product's carbon footprint. The Climate Changer was recently honored by Polartec® with the APEX Award for outstanding achievement in design and innovative use of Polartec® fabric.
U.S. spending on pets will be up in 2009
The American Pets Product Association (APPA) estimates that in 2009, Americans will spend an approximate $45.4 billion on their pets -- a $2.2 billion increase from what pet owners spent in 2008.
Also consider these great gift ideas:
-Bivy Bowl™ - Ultra-Lightweight Portable Bowl
Innovative collapsible food and water bowls for dogs put Ruff Wear on the map back in 1994. The new Bivy Bowl is designed with welded fabric technology that creates a watertight seal eliminating the need for two layers of fabric. This bowl is ultra-light and ideal for backpacking adventures.
-The DoubleBack Harness™ - Ruff Wear's New Climbing Harness for Dogs
Some want to scale the high points in all 50 states and others set their sights on climbing Colorado's Fourteeners. Now, Ruff Wear makes it possible to safely take your canine companion along on your next climbing adventure with the DoubleBack Harness. This adjustable strength-rated safety harness is designed for climbing, mountaineering, canyoneering, and lifting and lowering your dog in exposed areas.
"Creating quality products that address our customers' needs has contributed to Ruff Wear's double digit growth in 2008. The new fall 2009 products from Ruff Wear demonstrate the company's commitment to an increasingly sustainable product line. Several of our new products incorporate sustainable or recycled materials. The Climate Changer, for example, will save the energy equivalent of 7.2 pounds of carbon dioxide per jacket compared to virgin polyester," said Patrick Kruse, Ruff Wear's founder.
Fall 2009 New Products from Ruff Wear
Ruff Wear Eco-Sensitive, Interactive Dog Toys:

SquareBall Rubber Dog Toy - MSRP: $17.95
Sqwash Rubber Dog Toy -MSRP: $11.95
Ruff Wear Climate Changer: Made with Polartec® Classic 200 recycled fleece fabric, the Climate Changer is ideal for cold and clear conditions. It is breathable, dries quickly and is machine washable.

MSRP: $59.95 (XXS, XS, S, M, L, XL)
Ruff Wear Bivy Bowl: Ultra-light (under 2 oz) expedition bowl takes up minimal space in a pack.

Ruff Wear DoubleBack Harness: Strength-rated to 2,000 lbf or 8.9kN. Safety harness opens up areas that were previously difficult for dogs to access, while providing an increased level of safety, comfort, and convenience.

MSRP: $124.95 (XS, S, M, L)
About Ruff Wear
Ruff Wear's mission is to build high performance products that enhance and inspire outdoor adventures for dogs and their human companions. Ruff Wear encourages an active lifestyle for everyone with a four-legged friend - whether it's a 15 minute walk, a trail run, a day hike, or multi-day backcountry adventure. Ruff Wear gear allows dogs to go farther, longer while providing an increased level of safety, comfort, and convenience.
Ruff Wear is committed to preserving open lands and waterways, providing important habitat for wildlife and recreational opportunities. Ruff Wear partners with The Conservation Alliance to protect these special places so important to canines and humans. Additionally, Ruff Wear works with regional grass roots organizations, giving back to the community, and creating opportunities to strengthen the bond between humans and their dogs.
Ruff Wear was recognized as a ''100 Best Green Companies to Work For in Oregon'' on June 1, 2009.
Based in Bend, Oregon, Ruff Wear sells their products through specialty pet and outdoor retailers as well as http://www.ruffwear.com . Find Ruff Wear on Facebook at facebook/ruffwear and on our Dog Blog, http://dogblog.ruffwear.net .
###