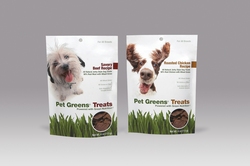 After experiencing the healing qualities of wheatgrass in my own life, I learned green nutrients also improve our pets' health
Baltimore, MD (PRWEB) February 13, 2008
Bell Rock Growers, the pioneer grower and supplier of green nutrition pet products, adds new recipes to its popular line of healthy dog treats and healthy cat treats made with certified organic wheatgrass. Formerly called Grass Goodies®, the newly branded and expanded Pet Greens® Treats will be showcased this week with exclusive show specials for retailers and distributors at H.H. Backer's 20th Annual Pet Industry Show & Educational Conference in Baltimore (Booth #408).
Pet Greens Treats come in four tasty recipes: Roasted Chicken or Deep Sea Tuna semi-moist treats for cats; Roasted Chicken or Savory Beef jerky-style treats for dogs. All four varieties of Pet Greens Treats are made with wholesome ingredients, including certified organic wheatgrass. Recipes contain no wheat gluten, no corn, and no artificial colors or flavors.
According to Bell Rock Growers Co-founder Catherine Hoffmann, the company's passion for Pet Greens began with her personal quest for greater well being. "After experiencing the healing qualities of wheatgrass in my own life, I learned green nutrients also improve our pets' health," says Hoffmann. "We developed Pet Greens to provide quality pet nutrition similar to green food supplements people include in their own diets."
Wheatgrass is packed with high concentrations of chlorophyll, active enzymes, carotene, vitamins, minerals and other nutrients known to promote healthy gums and digestion, detoxification and development of healthy blood and muscle tissue. Wheatgrass also satisfies pets' instinctual cravings for greens, providing a safe alternative to harmful household plants and chemically treated outside grasses.
Bell Rock Growers Co-Founder Marty Walls partnered with Hoffmann in 1996 to launch the pet product industry's first nationally distributed live wheatgrass, called Pet Grass®, and catnip with major retailers and independent stores. The innovative duo created another industry first when they incorporated green nutrition into Pet Greens Treats, providing pets with healthy, convenient treats for training and rewards between meals. "Bell Rock Growers has earned a solid reputation among retailers and consumers as a premium supplier of affordable green nutrition products for pets," says Walls. "Our Pet Greens Treats set the benchmark for quality, convenience and originality in pet nutrition."
Pet Greens Treats have a suggested retail price of $3.99 for 3 oz. packages of semi-moist cat treats and $5.29 for 4 oz. packages of jerky-style dog treats. Retailer prices may vary.
Based in San Marcos, Calif., Bell Rock Growers is a certified organic grower of live wheatgrass and the pioneer supplier of green nutrition products for pets. Bell Rock Growers' complete line of products Powered with Green Nutrition™ include: Pet Greens® Live Pet Grass® and Catnip; four varieties of Pet Greens Treats for dogs and cats; Pet Greens Garden self-grow wheatgrass kits; and an all-natural grooming line with wheatgrass.
Retailers and distributors are invited to visit Bell Rock Growers at booth #408 for free samples and exclusive H.H. Backer show offers in Baltimore May 16-18, or visit http://www.bellrockgrowers.com.
###