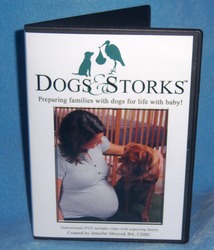 I want to make education available even before they know they need it!
Cary, NC (PRWEB) March 26, 2009
Dogs&Storks™ is the first national baby preparation program where dogs are the focus. Answering the call of many expectant parents, the new DVD is an economical choice and sets the groundwork for success before baby arrives. Hundreds of families have benefited from the Dogs&Storks™ national baby preparation ]program. Now, the updated DVD offers access to thousands more, providing practical education and support during pregnancy, and helping to increase safety and decrease concerns many new parents have about their family dog.
Dogs&Storks™ DVD is a two-for-one package providing a video taped Dogs&Storks™ Consultation along with a fully-narrated slide presentation. Bursting with information and tips, expectant families are introduced to the subtle language of dogs, taught ways to include their dog before and after baby arrives, and so much more. Narrator and Certified Dog Behavior Consultant (CDBC) Jennifer Shryock has been hands-on with families and dogs for over 15 years. Ms. Shryock has a Bachelors Degree in Special Education and is herself an expectant mother with three young children. Along with her private dog behavior consulting business, Family Paws, the Shryock family has fostered over 70 dogs and numerous cats over the years, providing ample hands-on learning opportunities. It was through fostering and activities in dog rescue that Ms. Shryock first saw the need for a specialized education for new and expectant families.
Frequently, dogs are abandoned or re-homed because parents don't know about or have access to available support and resources. Now, the Dogs&Storks™ DVD fills this need by discussing common concerns and the behavioral challenges seen by expectant and new parents. Preparing ahead of time as well as practicing new routines before baby arrives makes all the difference in the world, according to Ms. Shryock. Her love for dogs and children coupled with a passion for education has driven Jennifer Shryock to create and share Dogs&Storks™. "I want to make education available even before they know they need it!" states Shryock. Ms. Shryock believes that by offering Dogs&Storks™ nationally through qualified presenters, this education will become as common as childbirth classes. That is tail wagging news for dogs everywhere!
What are some of the most frequent questions asked over the years?
"How do we prepare our dog for baby?"
"How should we introduce our baby to the dog?"
"What does it mean when my dog barks at the crib while my baby is crying?"
"Will he be jealous and take it out on the baby?"
"What if he won't accept the baby?"
Common comments we hear that demonstrate the need for education include:
"He just knows the baby is ours and he protects him."
"He is the first one to run when the baby cries ... it is so cute."
"It is so cute when he licks the baby all over. He just loves the baby."
"We were told to put the baby on the floor and let the dogs sniff him."
"This last comment is the most alarming, and yes - we still hear parents say that someone has advised them to put the baby on the floor and allow the dog to sniff them when they first arrive home," states Ms. Shryock, It is dangerous misinformation such as this that has prompted Jennifer to create a team of uniquely qualified dog professionals throughout the United States and Canada to present this specialized program in many communities. Currently, there are 45 licensed presenters in the United States and Canada.
Jennifer Shryock is dedicated to providing accurate, practical and affordable education for professionals and families regarding safety and fun between children and family dogs. She offers a variety of programs and presentations from which all communities can benefit. Education is essential to proactive prevention; knowledge and awareness are empowering.
To find your local Dogs & Storks™ program, please visit http://www.dogsandstorks.com.
Jennifer is available as a resource to families, professionals and the media.
###