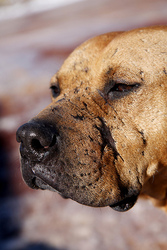 Kanab, UT (Vocus) April 10, 2009
Best Friends Animal Society and The Humane Society of the United States announced that a summit meeting held this week in Las Vegas to discuss the disposition of dogs seized from dogfighting operations has led to a coalition of groups working together to help the canine victims of organized violence.
Among the outcomes of the meeting:

The HSUS has a new policy of recommending that all dogs seized from fighting operations be professionally evaluated, according to agreed upon standards, to determine whether they are suitable candidates for adoption. Dogs deemed suitable for placement should be offered as appropriate to adopters or to approved rescue organizations. The HSUS will update its law enforcement training manual and other materials to reflect this change in policy.
The groups agree that all dogs should be treated as individuals, and they are the true victims of this organized crime. They also agree to support law enforcement and animal control agencies when decisions must be made regarding the dogs deemed unsuitable for adoption and in cases when rescue organizations and adopters are unable, within a reasonable timeframe, to accept dogs from such raids that have been offered for adoption.
The organizations will form a working group to develop future protocols for cooperation in addressing the needs of dogs seized in raids, such as how to assist with the housing of fighting dogs, how to conduct professional evaluations, and how to screen potential adopters.
The summit meeting was convened to address the matter of dogs seized as a result of cruelty investigations, particularly due to the increase in HSUS-led enforcement actions against dogfighters. Participants at the meeting included Best Friends Animal Society, The Humane Society of the United States, BAD RAP, ASPCA, National Animal Control Association, Maddie's Fund, Nevada Humane Society, and Spartanburg Humane Society.
CONTACTS:
Best Friends Animal Society
Barbara Williamson (435) 689-0200 (cell) or barbara(at)bestfriends.org
John Polis (435) 644-2001, ext. 4858 or johnp(at)bestfriends.org
The Humane Society of The United States
Rachel Querry (301)258-8255 or rquerry(at)humanesociety.org
Martin Montorfano: 301-258-3152 or mmontorfano(at)humanesociety.org
About Best Friends Animal Society:
Celebrating its 25th anniversary in 2009, Best Friends Animal Society advances nationwide animal welfare initiatives by working with shelter and rescue groups around the country. The society operates the nation's largest facility for abused, abandoned and special needs companion animal, Best Friends Animal Sanctuary, which is located in southwestern Utah. On any given day the sanctuary is home to approximately 1,700 dogs, cats, horses, rabbits, birds, and other animals. The society publishes Best Friends magazine, the nation's largest general interest, pet-related magazine with approximately 300,000 subscribers. For more information on Best Friends Animal Society, visit: http://www.bestfriends.org/ .
# # #