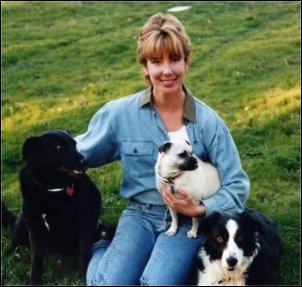 It is not just the ingredients that are important; it is also the quality and effectiveness of those ingredients. For example, Vetraceuticals, uses a proprietary blend of enzymes (Vetrazymes™), uses only cold water fish as its source of Omega 3's, and all ingredients are human grade
Three Rivers, CA (PRWEB) April 25, 2007
Veterinarian Dr. Christianne Schelling has long known that although commercial pet food alone may be sufficient for a pet's survival, additional nutrition is essential for your pet to thrive. When her own 11-year-old dog Jake began to show signs of aging, she decided to take positive action by developing a new nutritional system for dogs and cats.
"Commercial pet food is challenged in the quality of ingredients available for mass production, and often the nutritional value of those ingredients is questionable," says Dr. Schelling.
The current pet food recalls dramatically highlight the problems commercial pet food manufacturers face in being able to control the quality of their raw materials.
"In addition," Dr. Schelling states, "many vital ingredients are destroyed in the manufacturing process itself."
Enzymes, in particular, cannot survive the manufacturing process, as they are destroyed by heat. Probiotics and other desirable ingredients are also adversely affected by the manufacturing process.
"To help my own dog and to stave off the ill effects that would accompany his premature aging, I knew that I had to supplement his diet with a high potency formula of enzymes, probiotics, micro-nutrients, minerals, vitamins and powerful anti-oxidants," says Dr. Schelling. "But since no such product existed on the market, I had to create it myself with the assistance of a top pet nutritionalist."
After five years of formulation and testing, Dr. Schelling's Vetraceuticals Daily Canine Health System is now available to the public. "It is not just the ingredients that are important; it is also the quality and effectiveness of those ingredients. For example, Vetraceuticals, uses a proprietary blend of enzymes (Vetrazymes™), uses only cold water fish as its source of Omega 3's, and all ingredients are human grade," says Dr. Schelling.
Vetraceuticals is in an easy to use powder form that is added to the dog's regular dog food on a daily basis and costs about a dollar a day. "With Vetraceuticals you can have a positive affect on your dog's health for less than the cost of a cup of coffee a day," says Dr. Schelling.
And how is her dog Jake? Dr. Schelling is happy to report that, "At age 16 Jake is still going strong, thanks to Vetraceuticals."
For more information go to http://www.vetraceuticals.com or call 1.800.479.7550.
###