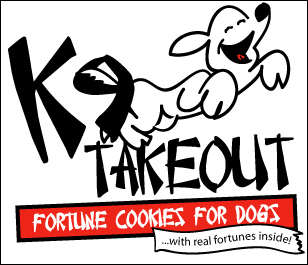 Over the years Baloo has helped me get along more easily while living as a wheelchair user. We play together, work together and even jog together on a daily basis. Baloo is well worth his weight in gold since he keeps me in tip top shape as my jogging partner and my business partner. He was my inspiration for K9takeout.com
Omaha, Neb. (PRWEB) June 5, 2007
K9takeout.com today officially announced the launch of their online doggie fortune cookie company for dogs and dog lovers alike.
These special doggie treats are made with modest natural ingredients like flour, water, eggs and USDA certified chicken liver to add a special flavor that dogs love. Each package of doggie fortune cookies contains ten individually cellophane wrapped cookies. Each fortune cookie has a comical doggie appropriate fortune inside and looks just like the human version of a fortune cookie. The Chinese takeout-pail packaging is as appropriate as the name itself "K9takeout". Dog owners will enjoy reading the hilarious fortunes to their pooches - as much as their dogs will enjoy chomping them down. This is a great product with a great name.
Omaha-based entrepreneur Doug Bratton says his inspiration for K9takeout came from his service dog "Baloo", a black Labrador retriever. "Over the years Baloo has helped me get along more easily while living as a wheelchair user. We play together, work together and even jog together on a daily basis. Baloo is well worth his weight in gold since he keeps me in tip top shape as my jogging partner and my business partner. He was my inspiration for K9takeout.com".
Growth in unique pet goods has grown explosively in the last few years. The American Pet Products Manufacturers' Association (APPMA) estimated that pet goods and medicines spending would grow nearly seven percent to reach $9.3 billion in 2006 (out of a total of $38.5 billion in overall pet industry expenditures). For 2007, it estimated that $40.8 billion will be spent on our pets in the U.S. A large percentage of the growth continues to come from the newer pet items such as pet deli snacks, toys, and convenience items. High-end specialty pet stores continue to thrive despite competition from the big box stores as passionate pet owners look for selection, style, and a unique shopping experience. Sixty-three percent of U.S. households own a pet.
If you would like more information on K9takeout, or to schedule an interview with Doug Bratton, please visit http://www.K9takeout.com, or contact by email.
###