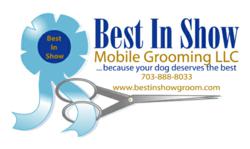 Our customers are wonderful pet owners with busy lives. They enjoy the convenience for themselves and the stress free experience for their pet.
Arlington, VA (PRWEB) October 18, 2011
Best in Show Mobile Grooming, a popular mobile dog grooming service based in Arlington, VA, is proud to announce its five year anniversary. Best in Show thanks its many clients who choose them to care for their pets.
Dog grooming in Arlington seemed like a logical choice for Barbara Johnson, owner of Best in Show Mobile Grooming. Born and raised in Arlington, she knows the area and the people well. The dog grooming part of this business equation was easy. Barbara had already been a professional pet groomer for over twenty-five years, when she founded the business.
Barbara has been a pet lover all her life. It is no surprise that she found her calling to become a professional dog groomer. After a couple of stints at grooming shops, Barbara landed a long-term career as the senior groomer at a large boarding kennel in Northern Virginia.
For years, Barbara considered launching a business of her own, as a mobile pet groomer. In 2006, she began taking steps toward founding what became Best In Show. It started with ordering a top of the line, state-of-the-art, mobile grooming salon. In autumn 2006, the vehicle was ready. Shortly thereafter, dog grooming in Arlington, Falls Church, and the surrounding Northern Virginia area became a lot easier for dogs and their owners.
In shops, dogs are often bathed one after the other and each put in a cage to dry. Then the groomer comes back to style each pet. "Mobile pet grooming provides individualized care and attention," said Barbara Johnson. Barbara explains that hand-drying, rather than cage drying, reduces anxiety in many dogs. "The mobile groomer is with the dog, one-on-one, the whole time." Even product selection is customized for a dog's coat, condition, and for allergies or skin conditions. When the groomer comes to you, it also eliminates travel time, which makes some dogs anxious or sick. With all the traffic in Northern Virginia, it makes some pet owners anxious and sick too!
Best in Show's mobile dog grooming services are provided in Arlington, Falls Church, Mclean, Great Falls, and nearby communities. To learn more about Best in Show Mobile Grooming and Barbara Johnson, visit http://www.bestinshowgroom.com or call 703.888.8033.
###