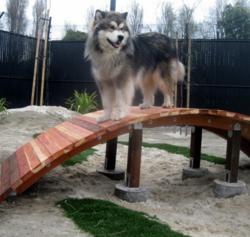 Our new Back Country Activity Package features all day outdoor play.
San Francisco, CA (Vocus/PRWEB) May 04, 2011
Pet Camp, the premier San Francisco dog and cat overnight lodging and daycare center, has just added 13,000 square feet of outdoor play space for its canine guests. Called the Savannah, the new space is beautifully landscaped with trees and native plants. It even contains a dry creek bed. The Savannah was designed to accommodate a new outdoor daycare package for dogs.
"Our new Back Country Activity Package features all day outdoor play," said Virginia Donohue or Pet Camp. "Dogs get much needed exercise and fresh air in the Savannah."
The introductory price for day camping in the Savannah is just $42 a day when you purchase a 15-visit package. Other daycare and boarding packages are also available.
"The dogs here are ecstatic," said Donohue. "They love being able to run, romp and enjoy the great outdoors in complete safety. Our clients feel good about bringing their pets here. It's a much better alternative than leaving them stuck inside at home all day."
Pet Camp is the San Francisco pet boarding facility with the most off-leash, outdoor space for dogs and the only outdoor adventure area for cats in the United States. Pet Camp is the three-time winner of the coveted "Best in the Bay" award selected by the readers of SFGate.com.
For more information about Pet Camp, its facility, or kitty and doggie daycare in San Fran, contact them by phone at 415-992-7173 or visit their website at http://www.petcamp.com.
About Pet Camp
Since opening their doors 13 years ago, Pet Camp has become the premier provider of lodging and cat and dog daycare in San Francisco. (Pet Camp can be found by searching for "San Francisco dog kennel" on Google, but they think of themselves as more of a "canine lodge.") They treat dogs and cats to the greatest collection of activities and experience that can be found in the City.
Their canine outdoor play area is the City's largest outdoor off-leash play area for dogs, and they operate the nation's only "outdoor" safari experience for cats. Pet Camp was the country's first green certified pet care facility.
# # #