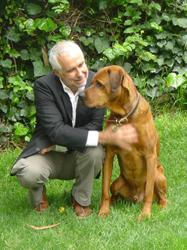 We are beyond thrilled to have top trainers like Dr. Dunbar joining us in our mission to improve the lives of dogs!
Boca Raton, FL (PRWEB) April 19, 2013
As part of a larger initiative to educate pet parents on how to have the healthiest and happiest dogs and promote the importance of responsible dog parenting, The Dogington Post and Merrick Pet Care teamed up to create "Merrick Pet Care's Dogington University," a series of eight live seminars presented by top dog trainers from around the world, which began April 15 and continues daily until April 24. A full schedule is available at http://dogingtonpost.com.
On Friday, April 19 at 4:00PM EST, well-known and well-respected dog trainer Dr. Ian Dunbar will present a live one-hour seminar to readers and fans of the Dogington Post.
Veterinarian, animal behaviorist, and dog trainer, Dr. Ian Dunbar received his veterinary degree and a Special Honors degree in Physiology & Biochemistry from the Royal Veterinary College (London University) plus a doctorate in animal behavior from the Psychology Department at UC Berkeley, where he researched olfactory preferences and the development of aggression in domestic dogs.
Dr. Dunbar has authored numerous books and DVDs about puppy/dog behavior and training, including How To Teach A New Dog Old Tricks and the SIRIUS® Puppy Training video. He created the world's first off-leasy puppy classes and is the founder of the Association of Pet Dog Trainers.
"The Dogington University program has been hugely popular so far," said Brandy Arnold, Content Editor for Dogington Post, "and we are beyond thrilled to have top trainers like Dr. Dunbar joining us in our mission to improve the lives of dogs."
The Dogington Post shares with Merrick Pet Care, a company recognized for the highest quality standards in the pet food industry and Dogington University sponsor, a common goal of improving the lives of dogs and their families through proper nutrition, education, training and responsible pet ownership. Anyone can register for free at https://www3.gotomeeting.com/register/522531590. A one-time registration will allow access to all eight training seminars.
"Merrick Pet Care is pleased to partner with Dogington University to make these well-respected experts available to all pet parents for the benefit of their pets," said Pete Brace, Vice President, Merrick Pet Care. "This forum is certain to provide helpful tips that will benefit pooches everywhere."
Trainers also presenting as part of the series include the highly respected Victoria Stilwell, most well known for her television series, "It's Me or the Dog" and her positive method of dog training.
Other Panelists include Veterinarian Dr. Chris Smith; Owner of Off-Leash K9 Training, Nick White; Behavior Therapist and Master Trainer, Dianne Sarasin; Broadway Trainer, William Berloni; "The Original Dog Whisperer," Paul Owens; and the "Celebrity Dog Listener," Tony Knight.
For a full schedule of the Merrick Pet Care's Dogington University Dog Training Seminars, visit http://dogingtonpost.com.
About Dogington Post:
DogingtonPost.com was created for the love of dogs. It promises a forum of informative articles, newsworthy dog stories, health and breed information, and heartwarming videos. The site addresses current issues affecting dogs and their human parents – from serious health concerns to lifestyle issues on feeding, grooming and the overall well-being and mental health of dogs. It is the Internet newspaper, all about dogs.
About Merrick Pet Care Inc.
Founded in 1968, Amarillo-based Merrick Pet Care Inc. is a leader in the natural and organic pet food category. With a mission to create the most nutritious and wholesome food, Merrick helps families take better care of their pets by cooking up nutritious, real whole foods for pets. All foods are made in the USA using only the freshest ingredients grown by local farmers. The company offers a wide variety of dry and wet foods, as well as treats, that are available nationally at independent pet specialty stores, Petco and online via select retailers at http://www.merrickpetcare.com.