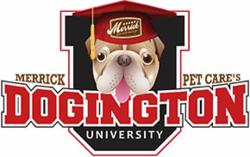 This forum is certain to provide helpful tips that will benefit pooches everywhere.
Boca Raton, FL (PRWEB) June 07, 2013
As part of a larger initiative to educate pet parents on how to have the healthiest and happiest dogs and promote the importance of responsible dog parenting, The Dogington Post and Merrick Pet Care have teamed up to create "Merrick Pet Care's Dogington University," a series of eight live seminars presented by top animal health experts, which begins June 6th and continues throughout the month of June. A full schedule is available at http://dogingtonpost.com.
The Dogington Post shares with Merrick Pet Care, a company recognized for the highest quality standards in the pet food industry and Dogington University sponsor, a common goal of improving the lives of dogs and their families through proper nutrition, education, training and responsible pet ownership.
Anyone can register for free at https://www3.gotomeeting.com/register/372455822. A one-time registration will allow access to all eight free seminars.
"It is widely known that well behaved, healthy dogs stand a better chance of finding and staying in loving homes, away from overcrowded shelters and euthanasia," said Brandy Arnold, Content Editor for Dogington Post.
"Merrick Pet Care is pleased to partner with Dogington University to make these well-respected experts available to all pet parents for the benefit of their pets," said Pete Brace, Vice President, Merrick Pet Care. "This forum is certain to provide helpful tips that will benefit pooches everywhere."
As part of the event, well-respected and well-known veterinarians and experts from around the country will give one hour, live presentations to the readers and fans of the site. Experts presenting as part of the series include the highly respected Dr. Ernie Ward, the veterinarian for the "Rachel Ray Show" and author of Chow Hounds. Dr. Ward will speak on the topic of pet obesity.
Holistic veterinarian and award-winning author, Dr. Shawn Messonnier will discuss allergies & skin problems in dogs and how pet parents can treat them both conventionally and naturally
Other Panelists include Jennifer Kachnic, the president of the Gray Muzzle Organization, who will speak about caring for senior dogs; Dr. Doug Kenney, veterinarian and expert on the topic of pet insurance; Leslie May and Johann the Dog, experts in green living; Author John Clifton on the subject of vaccinations; Linda Tellington-Jones, the creator of TTouch, a system of animal training, healing and communication that allows people to relate to animals in a deeper, more compassionate way; and Thom Somes, "The Pet Safety Guy" will discuss summer hiking safety for dogs.
About Dogington Post:
DogingtonPost.com was created for the love of dogs. It promises a forum of informative articles, newsworthy dog stories, health and breed information, and heartwarming videos. The site addresses current issues affecting dogs and their human parents – from serious health concerns to lifestyle issues on feeding, grooming and the overall well-being and mental health of dogs. It is the Internet newspaper, all about dogs.
About Merrick Pet Care Inc.
Founded in 1968, Amarillo-based Merrick Pet Care Inc. is a leader in the natural and organic pet food category. With a mission to create the most nutritious and wholesome food, Merrick helps families take better care of their pets by cooking up nutritious, real whole foods for pets. All foods are made in the USA using only the freshest ingredients grown by local farmers. The company offers a wide variety of dry and wet foods, as well as treats, that are available nationally at independent pet specialty stores, Petco and online via select retailers at http://www.merrickpetcare.com.