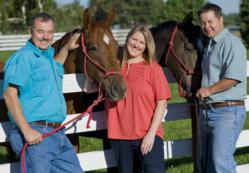 "The most important factor is better quality control of our natural dog food."
Meridian, ID (Vocus/PRWEB) February 22, 2011
Dynamite Marketing, which makes natural horse feed and natural dog food, is featured on Fox Business' Small Business Center's "Made in the U.S.A." series as an example of a company that manufactures its products domestically.
"The most important factor for us is better quality control," said Callie Novak, vice president of the company. "This is critical, whether you are looking at natural horse feed, dog nutritional supplements or hypoallergenic dog food.
"Stringent quality control regulations in the United States have been a comfort to both us and our customers in the wake of deaths from contaminated dog food, alpaca feed and other products manufactured overseas.
"Manufacturing in the U.S. also allows us to have exceptionally fresh ingredients, most of which are less than 30 days old. Our customers can receive products manufactured less than two weeks before, a level of freshness unheard of in our industry," she told Fox.
Novak believes that this commitment has helped Dynamite's growth "because it fosters a high degree of trust in us from our customers and a strong corporate culture. They know that we do not subcontract our formulas to other facilities over which we have no control. We also purchase only from reputable U.S. suppliers, and never buy damaged or discounted ingredients. In many cases we own outright the sources of the major ingredients in our natural horse feed and natural dog food.
"Our manufacturing processes are so stringently controlled that we have a separate mill to produce feed for herbivores, such as horses and poultry that are especially sensitive to contamination from meat needed by other species such as dogs and cats. So far as we know, we have the only urea-free, antibiotic-free, meat and bone meal-free, insecticide-free, and unnatural preservative-free feed mill in the United States.
Both hypoallergenic dog food and raw dog food are becoming increasing popular as people place more focus on their companion animals. "Most people today want the same quality of nutrition for their dogs, horses and other animals as they do for themselves," she told Fox.
"We also are in a unique position," she said, "because we have one of the few mills that focus on specialty feeds for horses, alpacas, llamas and zoo animals. We can, therefore, fulfill our personal convictions of providing the highest quality animal feeds available.
A family-owned business that has specialized in animal nutrition for four generations, Dynamite Marketing makes products for virtually every member of the animal kingdom. It has long developed food and nutritional supplements for prize-winning racehorses and working dogs across the country. Its specialists can recommend exactly what vitamins, minerals and other supplements best support dogs with arthritis, horses with laminitis, cats whose owners make their own food, and cows with digestive issues. Dynamite has worked with veterinarians and university researchers to produce specialty foods to correct nutritional deficiencies in animals ranging from Canadian muskoxen to peregrine falcons to zoo exotics.
Manufacturing facilities are in Meridian and Nampa, Idaho, and Des Moines and Westside, Iowa.
Additional information, including information on natural horse feed, natural dog food, hypoallergenic dog food, and dog nutritional supplements, is available at dynamitemarketing.com.
The complete story is online at http://smallbusiness.foxbusiness.com/slideshow/sbc/2011/02/09/making-usa-dynamite-marketing/#ixzz1E3AlTOOq.
Keywords: natural horse feed, natural dog food, hypoallergenic dog food, dog nutritional supplements
# # #