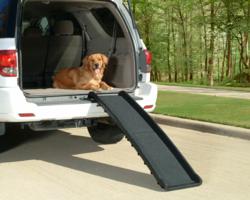 Worlds Lightest Full Size Dog Ramp
(PRWEB UK) 25 April 2012
With so many dog ramps to choose from, it can be a real dilemma to decide which ramp will best suit a dog owners requirements.
The main consideration when purchasing a dog ramp is to ensure that they are adequate in length otherwise the incline of the ramp will be too steep. Solvit Products from USA have managed to produce a dog ramp that is extremely light, very strong and stable, and yet long enough to suit all vehicles up to 24" from the ground, this includes hatchbacks, estate cars and mpv's.
Tim Berrisford of Easy Animal says, 'This new Ultra Bi Fold dog ramp by Solvit is a fantastic development in the market as it is the lightest dog ramp available, everyone is looking for a feather-light ramp that doesn't flex and retains it's inherent strength. This new Solvit ramp only weighs 4.5kg and is so stable that it can easily support all dog's up to the large breeds carrying a load of up to 90kg. Many folding dog ramps flex when a dog of any weight climbs onto it but this new ramp by Solvit stays very rigid.'
A major selling feature of this ramp is the high sides to the ramp, this is especially important to dog's of a nervous nature or ones that have not used a dog ramp before. These high sides gives dog's confidence and prevents them from slipping off. The ramp has an abrasive anti-slip surface which works well in all weather conditions even when wet, and the ramp folds away very compactly so it stores easily in most vehicles.
So many people put off buying a dog ramp until quite late in the dog's life due to mobility issues. Whether this is caused by joint problems or old age a time will come when the dog owner realises that they cannot lift the dog.
Recent research has indicated that by then a lot of damage has been caused from dogs jumping down from high boots of cars. Most vets recommend that a dog ramp should be used from very early in a dog's life to prevent these high impact injuries. As higher vehicles and 4 x 4's seem to become more popular on our roads so the chance of long term injury to dog's joints seems to increase.