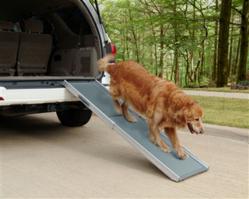 (PRWEB UK) 17 April 2012
Easy Animal have extended their portfolio of websites by acquiring the Ramps4Dogs.co.uk website. This website which sells dog ramps to aid dogs to get into vehicles sells a wide range of dog ramps including the Solvit pet ramps and Pet-Gear both American brands of dog ramps, are well established in the dog travel arena.
Ramps4Dogs.co.uk had a niche in the dog travel sector and they had a growing following of customers who purchased dog ramps as they explored the way to get their elderly or incapacitated dog get into a car.
Tim Berrisford a partner in Easy Animal said 'We are delighted to have acquired a website with an excellent reputation for after sales care in the dog travel sector, this now means that we are the largest retailer of dog ramps in the UK. We now offer the largest range of ramps available anywhere and offer free advice and help in choosing the right ramp for customers."
Many vets recommend the use of a dog ramp for a dog from an early age, as the regular impact on a dogs joints from jumping down from a high vehicle can be significant. Early use of a dog ramp can save significant costs in veterinary fees later on in a dog's life.
Every customer has a different dog at a different age and a different vehicle, so it is so easy to choose the wrong ramp, Easy Animal try to ensure that the decision making process is simple and offer totally free advice in helping customers choose the right dog ramp.