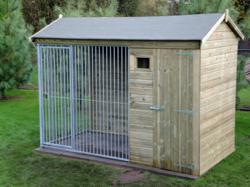 (PRWEB UK) 18 April 2012
Easy Animal one of the UK's largest pet retailer launches a new company 'DogRunPanels.co.uk' to provide quality dog runs and dog kennels to dog owners across the country. There is a significant need by owners of dogs to provide kennelling and dog runs to house their dogs outdoors to allow them fresh air and exercise.
At this time of year when the weather warms up many dog owners will be looking for quality dog runs and DogRunPanels.co.uk company has invested heavily in stock of premium dog runs to ensure that this desire for dog runs is fulfilled. Initially the product range includes 5cm and 8cm bar panels but in the future the offering will be extended to include a range of mesh dog run panels commonly used in boarding kennels.
All the dog run panels are manufactured to European standards and are manufactured so they are a universal fit and are compatible with other standard modular dog runs. all panels come with a substantial 5 year warranty for peace of mind. This new range of dog run panels are well stocked and the company intend to offer a fast next day delivery for the UK mainland and actively encourage enquiries via a freephone helpline.
For customers with a boarding kennel or commercial kennel the good news is that they can also manufacture bespoke panels so refits and upgrades to an existing dog kennel can be arranged. Further details on the companies range can be obtained from http://www.dogrunpanels.co.uk or by calling 0800 849 8844.