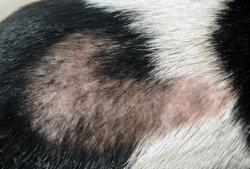 The root cause of Alopecia is simply a lack of sunlight.
Portland, OR (PRWEB) February 20, 2013
A recent article suggests that a new light therapy device could change the way vets and pet owners combat Seasonal Flank Alopecia in dogs. The hair loss condition found most commonly in Boxers and Bulldogs, is finally being put in new light.
Lauren Romano, author of the article writes, "You've heard about Alopecia, also known as partial or full hair loss, in humans, but did you know that a form of it can also occur in our beloved pets? Many dogs and cats experience Seasonal Alopecia, which is a hair loss condition that causes the animal to lose hair in spots on their body predominately at the flank area between the ribs and hip. The good news is that it's treatable. One option is to use the Sol Box, which is the world's first light therapy box designed to provide simulated sunlight to cats and dogs everywhere."
It turns out that the root cause of Seasonal Flank Alopecia is simply a lack of sunlight. As the article explains, " It's believed that Alopecia occurs when the Pineal Gland, the pine cone shaped gland located at the base of the brain, does not receive enough sun exposure. The gland secretes melatonin, which in turn distributes info about lighting to the rest of the body and regulates circadian rhythms. The lack of sunlight in conjunction with the Pineal Gland is believed to be a reason for the bald spots at the flank area."
Until now, vets were prescribing doses of melatonin with little to no prevail. The Sol Box by Pawsitive Lighting is able to mimic the brightness of the sun and in turn stimulate the Pineal Gland naturally. So instead of prescribing medications after the fact, Pawsitive Lighting is able to quell symptoms before they even begin. By using the Sol Box year round, seasonal hair loss can be prevented entirely.
This is just adds to the growing trend in holistic treatments that are being used in place of the traditional pharmaceutical approach. It is about time that the medical community begin exercising one of the many non-intrusive, preventative approaches to pet wellness.