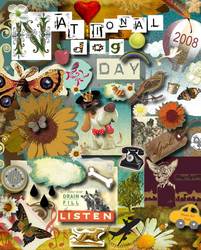 yet another way to give back
Los Angeles (PRWEB) July 22, 2008
The Great American Dog Show presented by Colleen Paige's Pet Home Magazine is coming to National Dog Day in Solomons Island, Maryland on August 23, 2008.
Created by celebrity animal behaviorist, author, entrepreneur and publisher - Colleen Paige, The Great American Dog Show allows dog lovers from around the nation to compete for categories such as, America's Most Beautiful Dog, America's Most Handsome Dog, America's Most Talented Dog, Best Costume, Best Dog/Owner Look Alike, Best Dog Waddle and My Best Friend (for kids only) on August 23, 2008 at the Calvert Marine Museum in Solomons Island, Maryland.
Celebrity judges for the show include Betty Currie (President Clinton's former personal secretary) and former White House cat - Socks, Rescue Ink, Elwood - The World's Ugliest Dog (judging the Most Beautiful category) founder of National Dog Day, Colleen Paige, actor Dominic Scott Kay and a couple more special secret celebs.
Winners will be lavished with fabulous prizes and featured in Colleen Paige's Pet Home Magazine, the first non-profit, pet related lifestyle magazine with proceeds donated to the Animal Miracle Foundation and the Colleen Paige Foundation, to support animals and children around the globe.
Only an online publication currently, Colleen Paige's Pet Home Magazine is planned to be available in pet stores, book stores and supermarkets in 2009. Similar to Martha Stewart Living, which founder Colleen Paige calls her "most favorite read" and "every domestic goddesses bible", Pet Home Magazine caters to the needs of pet lovers for healthy living, ranging from pet friendly home decor, to cooking for family and pets, whole gardening, life with kids and pets, eco friendly pet products, and articles and advice from interesting personalities and professionals, including Paige herself, who also has a new line of pet accessories and pet friendly furniture planned for launch in the fall of 2009.
The Great American Dog Show created by Paige, also founder of National Dog Day is "yet another way to give back" she says . "I created this show to allow the everyday dog lover to engage their dog in something special, to help make a memory of a treasured time together, to have their five minutes of national fame. It can take years of training to be good enough to be accepted into most national dog shows. Our pets are here for such a short time and I want everyone to have the opportunity of letting their fur babies shine!"
A sister event to The Great American Dog Show, is none other than The Great American Cat Show, scheduled for late October in San Diego, California.
The deadline is fast approaching for The Great American Dog Show goers to get their registrations in. Forms can be downloaded at http://www.nationaldogday.com/dog_shows.htm and fees can even be paid online to secure a spot right away.
The Animal Miracle Foundation is a private, nonprofit, charitable foundation. AMF's tenet is to improve the lives of animals through public awareness platforms, assisting rescue organizations through grant giving, caring for the planet and its eco systems by helping to plant trees and educate the public about eco friendly living and providing compassion education to children.
Contact:
Sandra Thurman
Events & PR
Animal Miracle Foundation
877-205-0871
###