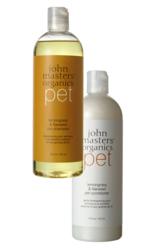 We received many requests to bring back a pet shampoo, so we decided to improve on the original wash
(PRWEB) October 05, 2012
Even our furry friends need organic products to keep their coats looking healthy and clean. John Masters Organics is excited to introduce their new pet line consisting of a Lemongrass & Flaxseed Pet Shampoo and Pet Conditioner. Specially formulated for furry animals, these pet-pampering products contain essential oils of neem, citronella and eucalyptus to help ward off fleas and tix while lemongrass and flaxseed oils help promote a healthy coat. As an added bonus, the lemongrass works as a disinfectant to keep even the most mischievous pets fresh and clean.
According to the New York Times, after discontinuing their dog shampoo, Dogpoo, John Masters received numerous requests to bring back pet shampoo.
Lemongrass & Flaxseed Shampoo:
This velvety shampoo, made with 18 certified-organic ingredients, lathers into a rich foam that rinses off easily without drying or irritating the skin. Essential oils and extracts moisturize to leave a shiny, luxurious coat.
Neem- Contains fatty acids to soothe and nourish the coat & skin
Citronella- Natural insect and tick repellent
Eucalyptus- Wards off fleas and ticks
Milk Thistle- Conditions Coat
Lemongrass & Flaxseed Conditioner:
Made with 12 certified-organic ingredients, this lightweight conditioner hydrates, detangles and adds shine. Easily applied and rinsed off, your pet is left with a silky-smooth, shiny coat.
Soy Protein- Strengthens hair follicles, makes coat look thicker and fuller, improves shine
Flaxseed oil- rich in omega-3 fatty acids, seals in moisture
Citronella- Natural insect and tick repellent
Eucalyptus- wards off fleas & ticks
Borage Oil- restores moisture
John Masters Organics is a manufacturer of high-end organic, professional skincare and haircare products. The brand grew out of a desire to create a luxury beauty line that treats the earth with respect. The result is the culmination of the hard work performed by people all over the world. Their dedication to growing and harvesting organic and wild-crafted ingredients is honored at John Masters Organics
Integral Sense Brands was born out of consciousness to offer only the finest organic, all natural lines available. A distributor of premium, certified organic, non-toxic personal care products from around the world.