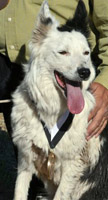 A major help for dogs and horses with fireworks and other loud noises.
Meridian, ID (PRWEB) June 21, 2011
Dynamite Specialty Products is preparing for pre-Fourth of July sales increases of Relax and Tranquil, homeopathic products that reduce anxiety for dogs during Fourth of July fireworks.
The products also are effective for horses.
Relax, initially designed to ease dog anxiety during training and competition, is also a major help with fireworks and other loud noises, said Callie Novak, Dynamite CEO. The natural herbal formula is drug-free and can be sprayed in the animal's mouth.
Dynamite's companion product for horse and dog anxiety is Tranquil, also an all-natural herbal, homeopathic formula. It works like a tranquilizer to create a feeling of calmness. It is useful when hauling horses, as well as during Fourth of July fireworks, Novak said.
Both products are available from Dynamite Specialty Products, a family-owned business that has specialized in animal nutrition for four generations. Dynamite has long developed food and nutritional supplements, including its signature products, Dynamite for horses and Showdown for dogs, for prize-winning racehorses and show dogs across the country.
Its specialists in nutrition for horses, dogs and other animals can recommend exactly what vitamins, minerals and other supplements best support horses with laminitis, dogs with arthritis, cats whose owners make their own food, and cows with digestive issues. Dynamite has worked with veterinarians and university researchers to produce specialty foods to correct nutritional deficiencies in animals ranging from Canadian muskoxen to peregrine falcons to zoo exotics.
Dynamite uses only natural ingredients, made in the United States for better quality control. Throughout its history of making natural horse feed and natural dog food, it has always looked at alternatives to animal by-products, antibiotics, chemical preservatives, fumigants, artificial coloring and other additives that have later caused health problems. Its manufacturing processes are so stringently controlled that Dynamite has a separate mill to produce feed for herbivores, such as horses and poultry that are especially sensitive to contamination from meat needed by other species.
Additional information on natural food and vitamin and mineral supplements for dogs and horses is available at DynamiteSpecialty.com or by calling (800) 697-7434.
# # #