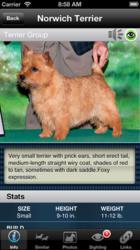 Washington, DC (PRWEB) February 08, 2013
NewsWatch, a national television show, highlighted DogSpotters, a new mobile applications that identifies hundreds of dog breeds instantly. The segment was highlighted on AppWatch, a weekly segment of NewsWatch dedicated to finding new and cool apps on the market.
There are over 175 registered breeds of dogs in the world. If you're walking down the street and come across a dog you've never seen before, you can list a few variables about the dog, including height, weight, and color, and choose the right dog from the results. You can take photos, add audio and personal notes, and share your spottings. The app is also filled with historical information and fun facts on each breed, so you're not just learning their name and look. DogSpotter also has a game that tests your new knowledge by ID'ing breeds. Overall, it's a fun mobile app that's helpful for learning more about our fun pets. For more information, head to DogSpotters.com. Get it soon ecause it's available for iOS devices for just 99 cents through February.
Telemark Productions' new DogSpotters app for iPhone and iPad creates an exciting new activity for dog lovers similar to the sport of bird watching. You can identify dogs, "collect" breeds, connect with dog owners, and share sightings on Facebook®.
DogSpotters allows users to:

Identify a dog's breed by a combination of traits.
Use the Similar tab and May Be Confused With guide to tell similar breeds apart.
Complete lists of Most Popular or Rarest Breeds, different dog Looks, Regions of the World, and AKC® Groups while building their Life List, like birdwatchers do.
Add photos of dogs they spot, with personal notes.
Earn ribbons while building dog ID skills with the DogSpotters game. The game has 72 levels of difficulty with sections devoted to Breed ID, AKC® Groups, Regions of the World and Trivia.
Share sightings, list completions and game achievements with friends on Facebook.
Explore breed profiles that include physical traits, history, trivia, pop culture appearances and celebrity owners. See hundreds of photos of top breed representatives.
Hear the American pronunciation of each breed name.
Use the Web links for each breed to check the AKC® standard and find breeders, rescue organizations, books about the breed and other information.
Join the DogSpotters community, with ongoing events and conversations by way of the Dogspotters webpage and Facebook page.
To get started voting and posting, head to http://www.dogspotters.com.
NewsWatch is a weekly 30-minute consumer oriented television show that airs on the ION Network Thursday mornings at 5:30am across the nation. NewsWatch regularly features top tech products, travel destinations, health tips, medical breakthroughs and entertainment news on the show. A weekly segment on NewsWatch, AppWatch provides viewers app reviews and game reviews of the latest and hottest apps and games out on the market for iOS and Android devices. The show airs in 180 markets nationwide as well as all of the top 20 broadcast markets in the country.
For more information on NewsWatch, head to http://www.newswatchtv.com