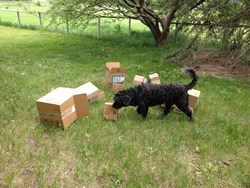 Longmont, Colorado (PRWEB) September 04, 2013
Lisa Torick, of Citizen Canine Dog Training in Longmont, Colorado, now offers K9 Nose Work® Classes for dogs and their owners.
K9 Nose Work® is a relatively new sport that blends a dog's innately powerful sense of smell, a human handler's competitive drive, and the close connection dog and owner can enjoy while having so much fun! For those interested in the competitive side of the sport, dog and owner teams can enter trials to compete for titles. Any dog will be great at it, and it is a wonderful outlet for the competitive minded, but retired agility dog.
Citizen Canine Dog Training is offering an Introduction to Nose Work class this September that will last for 6 sessions and is being held at Altona Grange in Longmont. Following the intro class, students advance to Introduction to Odor, and Continuing Nose Work. Interested parties may register for K9 Nose Work® and all other dog training classes online at CitizenCanineDogTraining.com/Class-Schedule/.
Nose work is also a wonderful opportunity for dogs with social challenges and fear issues. Citizen Canine Dog Training strives to make the dog training environment completely safe, and often uses nose work as a confidence building tool to aid in a dog's rehabilitation. Dogs with physical limitations such as missing limbs, blindness, and old age can also enjoy and excel in this sport.
Citizen Canine Dog Training is the business of Lisa Torick, a Certified Professional Dog Trainer, a Certified Training Partner of the Karen Pryor Academy, and an Associate Nose Work Instructor.
Whether you have a brand new puppy, an older dog, or a dog somewhere in between, Citizen Canine Dog Training can provide you with the foundation and training you need. In addition to the Canine Nose Work classes, Lisa Torick offers one-on-one home training for dogs and puppies in Boulder County, plus numerous dog and puppy group classes. Dog owners can register for classes through Citizen Canine Dog Training's main website at http://citizencaninedogtraining.com/