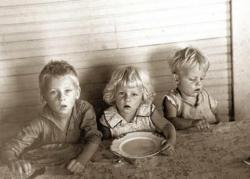 Alone we are limited, together we can make a massive impact. - Josh Delaney Co-Founder Doing My Part, Inc.
Charlotte, NC (PRWEB) January 18, 2012
Imagine a professional football stadium. Imagine how many individuals there are in that stadium. Now, multiply that number of people in that stadium by 23. That is approximately 1.6 million people...the same number of homeless children in America that need help today.
Although many people hear the facts and would like to help in someway, many don't. Most people just don't have the time, money or energy to take action. Let's face it, alone, we are limited in the way that we can help. Alone, we can only do so much.
But as seen by the massive amounts of money raised in 2011 for natural disasters through micro-donations, recurring donations and mobile giving, we now know the answer to creating a real, lasting impact is working together to create solutions.
That is why Doing My Part, Inc. has created the "Heroes for Homeless Kids" campaign to help homeless children in America. By giving individuals the easy opportunity to "do their part", anyone can get involved and know they are making a difference. Doing My Part features various campaigns but the current campaign is a fantastically With goal of giving a pair of shoes, clean socks and a message of hope to 207 homeless children in the Southeastern United States Doing My Part is recruiting individual "heroes" to help complete this project.
Co-Founder, Josh Delaney states, "Alone we are limited, together we can make a massive impact." With the number of homeless children in America who need help, Doing My Part is giving us the opportunity to make the world a better place, one hero at a time.
Doing My Part is a non-profit organization with the mission of "transforming the way the world gives back". Doing My Part gives anyone the chance to become a Hero through a minimal $3 automatic monthly donation. To see more information visit the website, go to the facebook page or see the previous press release here.
###