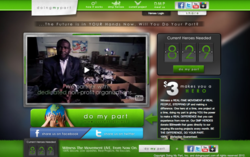 "Giving should be easy and rewarding. We know what it's like to want to give, and not be able to do as much as we would like. The fact is alone, we are limited, but together, we are unstoppable." - Co-Founder Mike Spencer
Charlotte, NC (PRWEB) February 02, 2012
There are so many reasons not to give back these days. Not enough time, too much work, no concrete evidence in where the money goes, too much effort to research causes and if you want to go out into the community and make a difference it takes time away from friends, family or other much needed free time from the hard working citizen. But because of the "Doing My Part" website, these hesitations are disappearing.
Doing My Part, Inc. a new, interactive online fundraiser is turning heads around the country with a new giving platform available to anyone with a credit or debit card. Now, individuals can simply become a "DMP Hero" to help children in need, aid a wounded warrior, help a cancer patient or any of the other urgent projects that the Doing MY Part team finds and introduces to the community.
By simplifying the giving process for everyone, this new concept is testing the good will of the masses. Doing My Part has claimed to identified all of the hesitations in giving and eliminated them, leaving one call to action for anyone who is able to give up 60 seconds and donate $3 (automatic monthly donations).
With a one-time signup, anyone can view the current project (one project-at-a-time) and the progress (represented by a LIVE HERO COUNTDOWN on the homepage) and do their part to help complete the project. The more individuals that do their part a $3/month donation, the more projects can be completed, and the more people and children helped.
Co-founder, Mike Spencer states, "Giving should be easy and rewarding. We know what it's like to want to give, and not be able to do as much as we would like. The fact is alone, we are limited, but together, we are unstoppable."
Doing My Part also gives all donors proof of the use of their donations. After the signup process, the donator can sit back, relax and watch the LIVE movement through updates on the site, a newsletter update and on social networks to track progress of the movement in real time.
After viewing the site, it's clear that the focus is on uniting for a purpose, simplicity in giving back, having confidence and proof, and showing the new "Doing My Part Hero" exactly where the money goes with documentation of every project, one at a time.
This new website is offering a simple and transparent solution to give back. Now everyone counts. The only question in how will the public respond, and most importantly, do people really care?
Doing My Part is a non-profit organization with the mission of "transforming the way the world gives back". Doing My Part gives anyone the chance to become a Hero through a minimal $3 automatic monthly donation. To see more information visit the website, go to the facebook page or see the previous press release here.
###