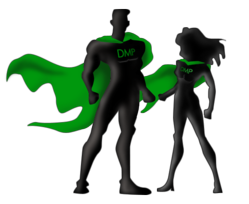 "...we all need each other and with one simple action, we can change the way the world gives back." - Mike Spencer, Co-Founder Doing My Part, Inc.
Charlotte, NC (PRWEB) January 10, 2012
With the "No Excuses Challenge" stamp showing on the screen, it's hard to not notice something in this particular fund-raising site. This one is a little different. With a quirky, one-liners and an alternative, but refreshing approach, the online fundraiser, Doing My Part, is broadening the fund-raising landscape through spearheading a united effort for individuals to "do their part". Focused on transparency, building a community of "Heroes" and attracting the masses to enable life saving projects to be completed, Doing My Part claims to have long term solution to expand the fund-raising landscape for non-profit and charitable organizations...and giving us the chance to become "Heroes".
On the website, each project is urgent and documented LIVE from start to finish so each member of Doing My Part can see how they are making a difference with their $3 monthly donations. Doing My Part gives members an interactive and confident giving experience that can be built over time, automatically.
With the intentions of creating a community of like-minded people around the cause, you can find every single member on the "Wall of Heroes". Each Hero who joins the community as a member for $3/month is automatically added to the website with a name and photo. "Heroes" can witness the movement created by new members in real-time through a "LIVE Hero Countdown" on the site and, finally, view each completed project when the Hero countdown reaches "0".
Mike Spencer, Co-Founder of Doing My Part, Inc. states, "There's no doubt that people want to help out, but because of the obstacles in the current process of giving, we as individuals are held back. Doing My Part is breaking down those obstacles to give everyone the chance to make a real difference. We all need each other, and with one simple action we will transform the way the world gives back."
By giving everyone the opportunity to help save lives, Doing My Part aims to become the largest grassroots fund-raising movement in the history of online fund-raising, and build a community of individuals who can experience unity through making a real, proven impact in the world together. This unique platform is currently LIVE and there are projects waiting to be funded....there's only one question left...will you do your part?
Doing My Part is a non-profit organization with the mission of "transforming the way the world gives back". Doing My Part gives anyone the chance to become a Hero through a minimal $3 automatic monthly donation. To see more information visit the website, go to the facebook page or see the previous press release here.
###