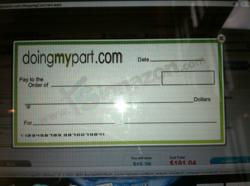 To watch these children's faces light up as they got their new shoes was just an amazing feeling...
Charlotte, North Carolina (PRWEB) August 16, 2012
When Josh Delaney and Mike Spencer founded Doing My Part, the two social entrepreneurs set out to impact the community one project at a time. This past weekend, they got one step closer to this goal when their online fundraising platform, DoingMyPart.com, reached their first project goal and donated its first check in history to help fund a non-profit cause. On August 20, 2012 at 11:00 a.m., Doing My Part will present Samaritan's Feet Founder Manny Ohonme with an oversized check symbolizing its $1500 donation.
For the past several months, the Doing My Part Heroes (members) have been donating $3/month to raise enough money to aid Samaritan's Feet in purchasing 150 pairs of shoes, clean socks, and backpacks with school supplies for over 150 homeless children currently residing at a women and children's homeless shelter in Charlotte, North Carolina. From donating $3/month online, the heroes raised a collective $1500 utilized to purchase these supplies.
On Saturday, August 11, the Doing My Part team collaborated with Samaritan's Feet volunteers at an event where the two organizations distributed these supplies and also provided recipients with footbaths and messages of hope. "Through collective $3 monthly donations, we were able to give hope to the hopeless and move our community forward. To watch these children's faces light up as they got their new shoes was just an amazing feeling…and even better…because of our DMP Heroes, we can do this over and over again," explains Spencer.
With over 7,000 homeless children in Charlotte, Doing My Part set a project goal to help 150 of them to start. With the children and their families living very transitional lives, the organization hoped to instill new confidence in the children as they began their first weeks of school by providing them with brand new shoes and school supplies. Delaney and Spencer plan to duplicate similar fundraising efforts in the future via DoingMyPart.com.
About
"Doing My Part is a non-profit organization with the mission of "transforming the way the world gives back." Doing My Part gives anyone the chance to become a Hero through a minimal $3 automatic monthly donation. To see more information visit the website, go to the facebook page or see the previous press release here."
###
Porsche T. Farr
http://www.PorscheTiaPR.com